Being an athlete with prescription needs is no easy feat. To ensure that your vision does not give up during a crucial game, providing extra care to the eyes becomes essential. Your eyesight will work in tandem with your favourite sport only if you offer the right kind of vision support either via prescription sports glasses or contact lenses. However, it goes without saying that wearing eyeglasses or contacts during an adrenaline-inducing sport can be intimidating. And, making the right decision can be a challenging ordeal. But, in this blog, we will meticulously examine the prescription goggles vs. contact lenses debate for sports!
What are Prescription Sports Goggles?
As the name suggests, prescription sports glasses are eyeglasses that correct your vision and protect the eyes against impacts while you engage in sports and other physical activities. They are an indispensable requirement for sports people with compromised vision. Some of the features of sports prescription spectacles include snug fit, excellent grip, visual contrast, and lightweight, and resilient frames.
What are Sports Contact Lenses?
Contact lenses for sports are another great option for sportspersons with compromised vision. They are great for individuals who do not like the look of sports goggles or who do not like the feeling of having spectacles sitting on their faces. They are a viable option for sports enthusiasts who are not at all accustomed to glasses, and need some time for the transition.
Advantages of Sports Prescription Spectacles
The main benefits of sports prescription glasses are -
Protection against Physical Harm and Impacts
The chances of getting hurt on the field while playing a sport are quite jarring and ever-present. But, wearing high-quality and impact-resistant sports prescription frames made of polycarbonate can protect you from blows to the sensitive eye region.
UV Protection and Safety Against Sun's Glare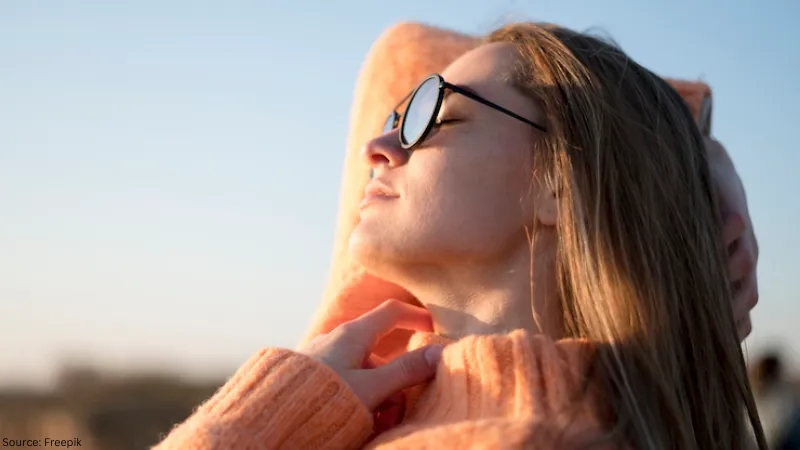 Most outdoor sports, whether it is football, cricket, or cycling, take place under harsh sunlight, and that too for prolonged time periods. Thus, excessive exposure to the sun's UVA and UVB rays can lead to the early onset of cataracts or make your eyes more vulnerable to problems like cataracts.
Besides, conditions like eye strain, headaches, etc., are bound to arise. In such a context, sports prescription spectacles with anti-UV coating can help! Likewise, high-quality sports glasses with anti-glare also act as a shield against the distracting and annoying glare of the sun. The result is a better performance on the field.
Want to know which sports need special protection? Check out our latest blog!
Protection Against Dust and Debris
The momentum of games like tennis, football, baseball, etc., is very fast-paced and adrenaline-induced. Therefore, elements like dust and debris might enter your eyes and disrupt your performance. However, prescription sports goggles offer protection against foreign elements trying to attack your eyes.
Better Visual Contrast
Prescription sports glasses with tinted lenses offer better visual contrast so that colour distortion is minimal and your eyes can focus better on the ball. Various sports like tennis, football, marathons, etc., are played better when you wear prescription sports spectacles with the optimal tint.
Now that we have touched upon the four benefits of sports prescription glasses, let us evaluate how sports contact lenses are helpful!
Benefits of Contact Lenses for Sports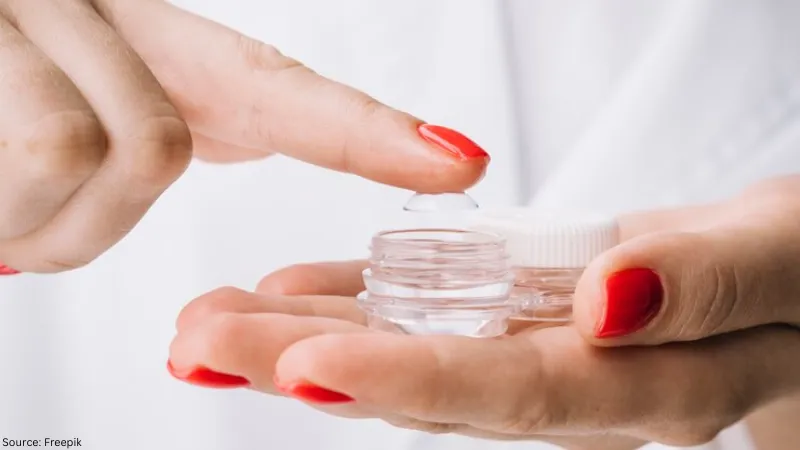 Better Peripheral Vision
Sports prescription glasses have a limited field of view, which can become a problem for sportspersons. However, contact lenses offer the best peripheral vision, which is akin to the human eye's natural vantage!
Unobstructed Field of View
Contact lenses for sports offer an unobstructed and crystal-clear field of view, which is very similar to an organic visual experience. Thus, there is no distortion, you can view your surroundings and react faster to objects coming at you and to other players around. Thus, an enhanced performance is assured.
Want an overall insight on contact lenses vs glasses? We have a blog to answer your queries!
No Fogging Up
One of the major highlights of contact lenses for sports is that they do not fog up, irrespective of the change in weather conditions - be it an unprecedented rainshower or scorching bouts of heat. Therefore, the possibility of getting distracted on the field is minimal.
Better Compatibility with Sports Safety Equipment
Last but not least, contact lenses have more compatibility with sports safety gear, whether it is a helmet or mouth guard. Unlike prescription spectacles, contacts do not interfere with the fit or comfort of fit of the ancillary safety devices you are mandated to wear while playing on the field.
Sports Prescription Glasses vs. Contact Lenses for Sports - What Should You Choose?
As the above discussion reveals, both prescription sports glasses and contact lenses have their unique benefits. So, the decision between glasses or contacts is an individual one, which should be based on a thorough analysis of your habits and personality in the field. For example, if you wear prescription glasses in your everyday life, then donning sports prescription spectacles on the field might not feel like too much of a difference. However, if you do not have the habit of wearing spectacles, and have recently joined the 'four-eyed' squad, then contact lenses might be a better fit.
Likewise, if you buy glasses online for sports with premium coatings and innovative add-ons, like anti-fog technology, anti-glare coatings, etc., your game is bound to improve on the field. On the contrary, if your eyes are prone to constant irritation, then contact lenses can do more than good while you are playing the game. Lastly, for some games like water sports, tennis, squash, cycling, and golf, sports prescription glasses are ideal.
Want some tips and tricks to get better care of your sports eyewear? Our latest blog would make a fascinating read!
Get Sports Prescription Glasses to Improve Your Performance on the Field
Enhance your on-field performance by opting for high-quality sports prescription glasses from Specscart. With frames made of lightweight and hypoallergenic TR90 material and infused with polycarbonate lenses, our sports spectacles are bound to bring out your best. So, steal the show and ace the game with our ACTICS glasses!