The race of prescription sunglasses vs transition lenses is getting interesting among users. People now are making smarter decisions towards their vision and UV protection so it's completely natural to come across the leading accessory that claims to do them both. If you wear prescription glasses then you can find yourself struggling between keeping an extra pair of sunglasses whenever you're going out under the sun's exposure. In this modern time where people are keeping an alarm for reminding themselves to drink water (it's true, don't ask). We don't have enough time to remember to carry an extra pair of sunglasses whenever we step out in the sun. It's about convenience and better decisions at this time which makes you excel.
If you are also struggling to choose between prescription sunglasses and transition lenses then we sorted the conclusion for you. Read on to find the right piece of accessory for you depending upon its usability, cost, advantages and disadvantages. It's good and the bad sides of a product help to confirm your decision.
What are Prescription Sunglasses?
Prescription sunglasses are just like your everyday fashionably designed chic sunglasses but with prescription lenses added to them. The design of the prescription sunglasses lenses works to provide you with vision correction and sun's protection at the same time when you go out. People with prescription glasses need their corrective lenses all the time to see an object. However, when they step out in the sun, they also need a filter of protection from sun UV rays. That is provided by sunglasses but with them, you can't correct your vision as they are lenses only equipped for eliminating sun harmful UV rays and unwanted glare.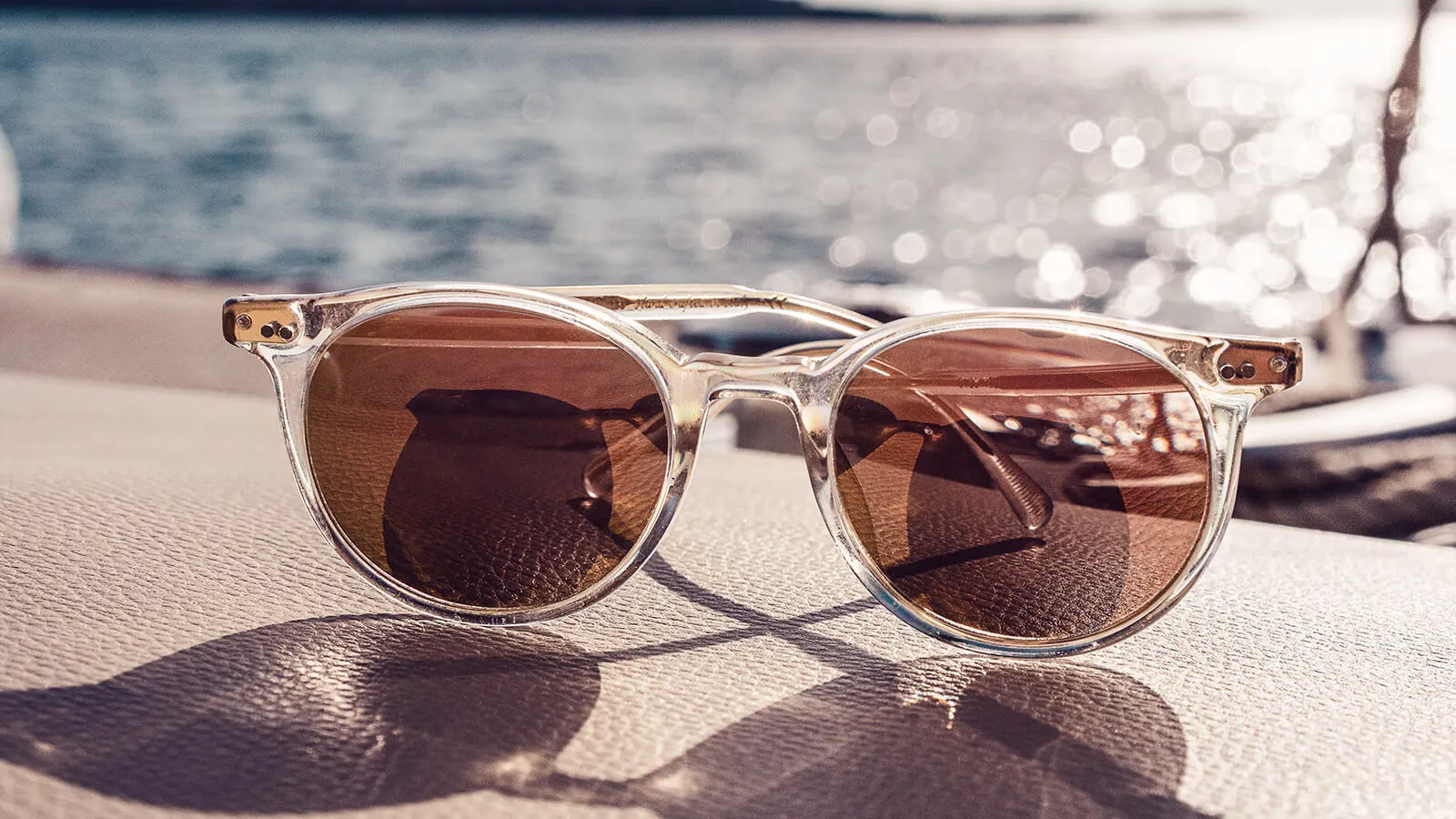 You can't go out outside without being able to see anything clear or just walk in your prescription glasses without caring about the sun's hazardous radiation. Hence prescription sunglasses are created for blending the two different features in one pair. Prescription sunglasses solves your struggle by managing sight correction and UV protection into a single pair. The act of stepping outside under the sun became all favourable for your vision and protection with the help of prescription sunglasses that contained them all.
Pro tip: All your sunglasses can be converted into prescription sunglasses.
How do Prescription sunglasses work?
Prescription sunglasses contain prescription lenses with an essential coating of anti-reflective, UV400 X-PRO, anti-glare and polarisation. For people with need of getting visual correction and UV protection is combined into one pair called prescription sunglasses to render them all. Prescription sunglasses are created by giving out your eyes prescription first, like what is the condition of your vision and then it is put into the sunglasses. The sunglasses assembled with all the vital filters and coating for eradication sun radiation now also contain your eyes prescription which makes it easy for you. Activities like driving, attending concerts, visiting amusement parks and other summer adventures are made extremely pleasurable to your eyes.
Advantages of Prescription Sunglasses
Convenience:
Prescription sunglasses surely bring more convenience to your lifestyle than you think you deserve.
You don't need to carry two different pairs like your prescription glasses and sunglasses while stepping out in the heat.
The ease of carrying just a single pair anywhere you travel gives enough space in your bad and lightness to your mind.
Sand, water and beach are all in the approval of prescription sunglasses, unlike contact lenses. It is a practical outdoor accessory where your eyes won't be itchy or watery by combatting the sun, sand, water and wind.
Variations and Options:
Renders high Prescription: If you want prescription sunglasses in varifocal lenses it is possible. You can get them in single-vision as well as in progressive lenses.
Multiple Tint Option: In prescription sunglasses, you have the option of selecting any tint you prefer. Unlike other eyewear with only dark gradients, you can go from light and candy tints to darker lenses like grey, brown and black.
Frames of all Kind:Frames and style in primarily the most important aspect of every eyewear. After all the vision and protection, one thing you can't help to have is the style statement. Hence prescription sunglasses have got all the variance of the frame for you where you can select from angular cat-eye, masculine aviators, chilled wayfarer, smarty square and adorable round frames.
Cost:
If only price didn't exist, everything would have been so great. However, the stock market works on that and so does the economy hence we have to talk the awkward talk of pricing of prescription sunglasses. Seeing the versatility of prescription sunglasses for any activity and premium feature which ensure maximum benefit, prescription sunglasses can be expensive.
If you are going for high brand designer sunglasses then, unfortunately, the cost can cost an arm. Prescription sunglasses are indeed less expensive than the total cost of both prescription glasses and sunglasses. However, Specscart helps to ease the moment for you by offering free coating on prescription sunglasses which makes them easily affordable.
The disadvantage of Prescription Sunglasses
It works best for most Outdoor Use: Prescription sunglasses are undoubtedly a great piece of accessory for making your outdoor life and activities a whole lot better. However, when it comes to indoor, prescription sunglasses need not have a place there. When you are indoors then you have to switch back to your prescription glasses.
Transition Lenses
What are transition lenses?
Transition lenses are also known as photochromatic lenses for its property of transitioning from one shade to another. Transition lenses change their colour depending on sun exposure. Transition lenses are unlike any other eyeglasses as it is technologically designed to work depending on the light conditions. In transition lenses, it works as a standard prescription glasses when you are indoors and just when you set out, the lenses turn darker and act as sunglasses while offering vision and UV protection.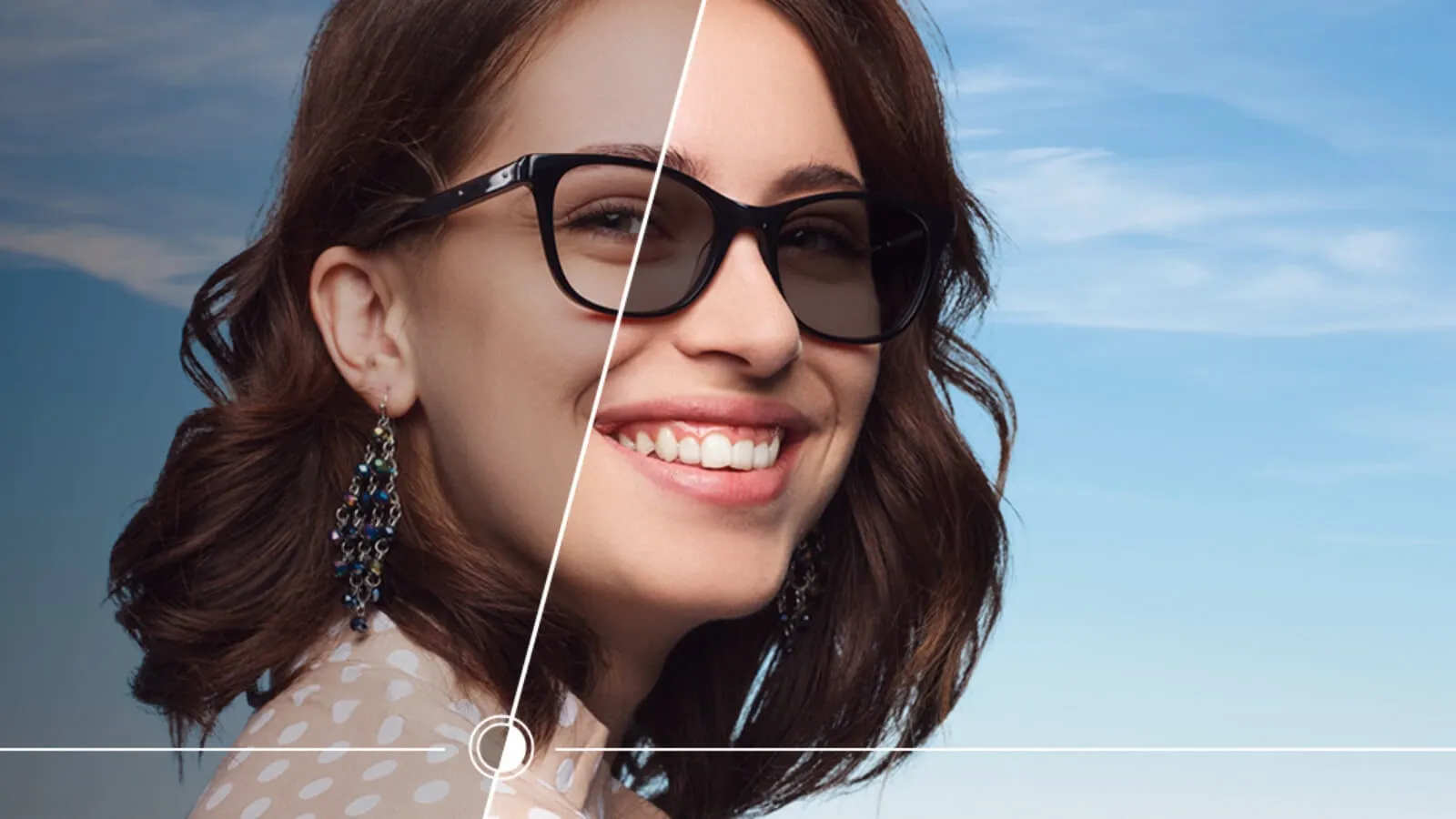 Since when you go outdoors, you need an accessory more than just sight correction but also sunglasses quality to keep your eyes protected from the sun's harmful UV rays. That's what a transition lens does, it changes its colour when sun UV rays fall on your eyes and act as sunglasses guarding the radiation against entering your eyes. When you step indoors and away from the sun, the glasses turn back to a clear lens and act as standard prescription glasses. These glasses are what you want depending on the situation and render the quality of two different pairs into a single eyeglass.
How do Transition lenses work?
Transition lenses are you know are clear indoors and dark outdoors working both ways to ensure sight correction and good eye health. The transition of these lenses takes place when the exposure to light, especially in a very high frequency like the UV rays, falls on the lenses, the lenses chemically change their colour to turn dark. If the sun's UV rays are not there, either if it's the evening or you are indoors, then these lenses turn back to normal in the absence of the activating light. The complete dark transition takes place when there is a presence of light and in the rest time, it works as a normal prescriptive lens.
The transition from clear to dark in the presence of UV rays takes about 30 to 35 seconds while the lenses turning back to clear when indoors take up to a minute. The design is created for the improvement and convenience of users with prescription and UV protection needs.
Advantage of Transition Lenses
Convenience
Transition lenses are solely designed for the term "convenient and efficient use". Many eyewear users are subjected to struggle between prescription glasses and sunglasses hence the following creation came into existence.
Transition lenses get rid of carrying two different pairs which cause your inconvenience and struggle to maintain them two pairs everywhere you travel.
You don't have to worry about forgetting your sunglasses or your prescription glasses and looking for them when you need it as they'll always be on your eyes for every situation.
You don't need to buy sunglasses or bring sunglasses while you are travelling and create an extra place in your bag.
It's a modern, stylish and smarter alternative. You don't have to use your hands as the transition works automatically depending on the atmosphere, it's truly a magic trick!
Enhanced Visual Experience
Transition Lenses helps to bring ease and comfort to the eyes by reducing eye strain from the sun by actively transitioning to a darker gradient.
It reacts with the sun's UV light and other visible light and darkens to offer a better visual experience by eliminating the effects of glare, UV rays and other visible light.
It contributes towards decreasing light sensitivity and hence gets rid of squinting of the eye or closing your eyes while stepping out. It also reduces acute headache and throbbing headache for certain individuals.
Renders complete sun protection with the use of vital gradients and coating when you get out in the heat.
Cost
Cost is again an important criterion in making a firm decision and transition lenses with lenses equipped with technological ability is not a bargain. Transition lenses in the market cost around £70-£90 with additional charges of the essential coating.
However, Specscart offers transition lenses on any of your ideal frames of choice with additional charges of £55 with a free coating of anti-glare, anti-UV, anti-scratch and Impact resistance. With its free home trial, take it for a free test drive and see how the greater impact it has on your eyes. When you make the decision, get them at an unbeatable price with free shipping and 30 days free return.
Disadvantages of Transition Lenses
Transition lenses are complained about not being the best sport in outdoor photography. The camera and lenses don't work in perfect sync and can be difficult to spot. Many times, you have to remove your glasses to avoid making your lenses look darker.
Prescription sunglasses vs transition lenses : Which works the best?
Prescription sunglasses vs transition lenses debate could be answered only by your needs. Prescription sunglasses are needed when you stay outdoors for long hours while the transition lenses are ideal for situations where you have to move in and out quite frequently. Both of them work exceptionally well in blending the vision and protection of your eyes and with good, they also contain some drawbacks. Prescription sunglasses vs transition lenses can't compete to prove which one works best for you as you only can decide what situation you find the need for them. If not one, grab both of them depending on your need.