In life, there are some moments, some events, and some occasions etched in our hearts as special milestones and cherished memories. For me, one such day was 14th of March, 2023, when I was invited to represent North-West Retail Businesses in the UK Parliament. The excitement and nervousness was all too overwhelming. But, let me tell you, feeling overwhelmed has never been so heartening.
When my mentor and very dear guide - Martin - broke the news that Specscart has an opportunity to be part of a combined event organised by Barclays and CBI, and be the voice of Manchester retail enterprises, my heart skipped a beat. It was a dream come true, and at the very moment, I realised that we, as a business, are truly making a change.
After five years of tenacity, hard work, and relentless hustling, I, a common man, and a budding entrepreneur, reached the House of Commons. How surreal!
An Overview of the Event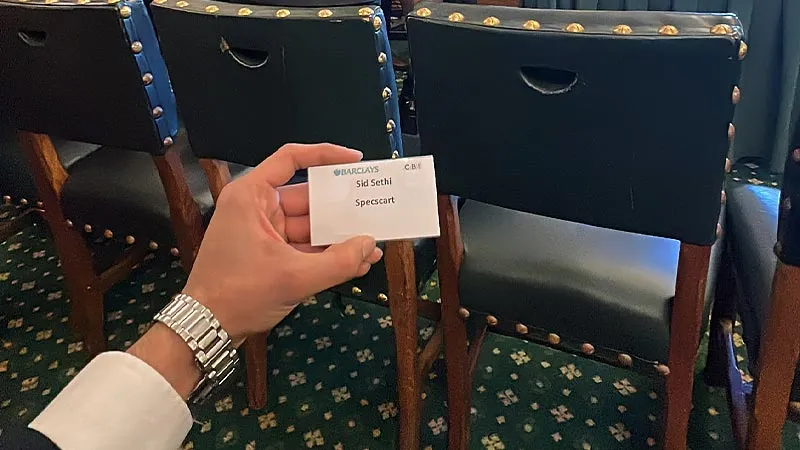 Well now, keeping all the gratitude and heart-warming feelings aside, I must mention that the Barclays-CBI event at the UK parliament was a much-needed endeavour. It offered an incredible opportunity for North-West retail businesses and NW MPs to have an open discussion on the things that can be done to improve the entrepreneurial environment of the United Kingdom, and how the government can further provide a push to small businesses, retailers and eyeglasses enterprises, which have the potential as well as the zeal, to transform the UK economy and solve tangible, real-life problems of the people with innovation, empathy, and ingenuity.
My question to the MPs was regarding dropshipping companies, and whether or not they are obligated to pay a little bit of more tariff, so that businesses like us that are brainstorming, innovating, and producing within the UK have an incentive to do better.
In the roundtable conference, I communicated my firm belief that the hour's need is to create a level-playing field for 'Made-in-Britain' companies, so that more jobs can be created, more real-world problems can be solved in an ethical and sustainable fashion, and the 'entrepreneurial air' of the current UK economy becomes more hospitable for small retailers and business ventures.
And of course, the overall conference was incredibly vibrant and insightful, as budding entrepreneurs and towering figures from nooks and crannies of the NW voiced their concerns, opinions, hopes, and aspirations. We talked about the present UK business scenario, and the major hurdles, such as exorbitant energy prices and increasing business rates.
However, every conversation ended with a ray of hope, as Manchester and the Northwest are innovation hubs, where the real 'technological' magic happens. There is overarching faith and belief that young business personnel with ideas brewing in their mind can and will make a mile of difference when given the right incentives and opportunities.
Change is in the Air: How Is Specscart Making a Difference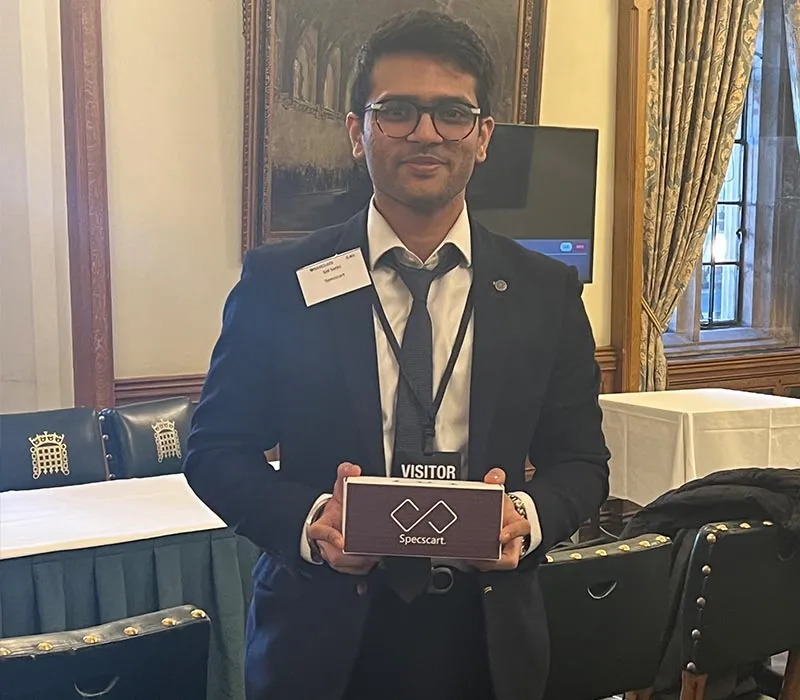 I have to say that the air inside the House of Commons was different that day; it was mixed and mingled with dreams, and desires to make a change! As a budding entrepreneur myself, I feel incredibly proud, grateful, and humble to have had the opportunity to grace the majestic and monumental - House of Commons - where all the government debates and decision-making take place.
At Specscart, we strive day and night to improve our operations, and cater to the tangible and real-life problems of the UK population. Currently, we are the fastest-shipping eyewear business in the United Kingdom, and have even levelled up our delivery process to weekends. All such milestones have become possible by studying kanban and focusing on supply chain technology. So, from point A to B, we know where an individual is!
After the eventful 'event' at the House of Commons, I strongly believe that the key is for Northwest and UK businesses to be self-reliant. Introspection is important, as all the answers lie within ourselves. History is proof that entrepreneurs solve all the problems of the planet, and Manchester-NW-UK is, indeed, the 'golden triangle' where true transformation can happen!
So, that was me, Siddharth Sethi from Specscart, signing off as a proud founder, ideator, and small entrepreneur.