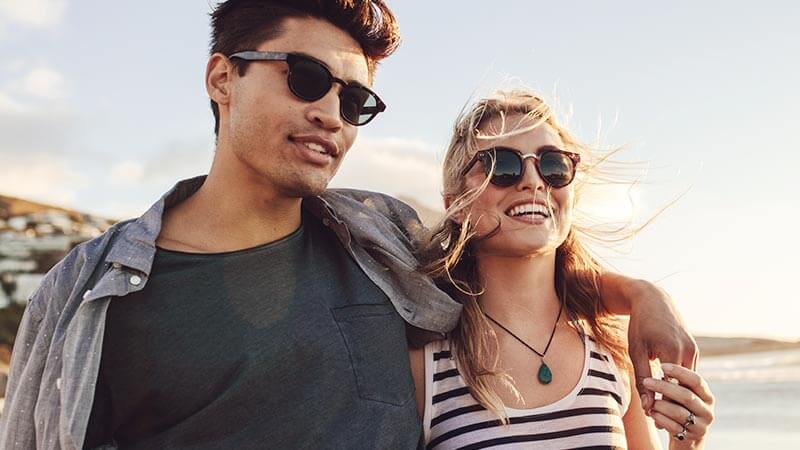 Sunglasses frame guide: How to lock in the perfect pair?
Sunglasses can take your look from drab to fab within seconds.
Sunglasses enjoy a high reputation in the realm of accessories and why shouldn't they? They do the most important job - protecting your eyes from the sun, elevating your whole look and giving you privacy in public (and who doesn't like that). Well, the list goes on and on.
If you've ever had to choose a pair of shades, you would know how hard it is. I mean it's exactly like picking a pair of shoes except the shades will be on your face for people to notice.
In case you also find the entire process rather problematic, I can tell you a thing or two about choosing the right pair.
Choosing Sunglasses for Your Face Shape
I know you are tired of all those fashion gurus telling you to try this or that style. But I am going to set the record straight.
No one's face is exactly round or square. And a heart-shaped face isn't shaped exactly like a heart. Or that would be a pretty horrific and funny sight to see I bet.
Some people don't fall into a specific category and have mixed features of two face shapes. But, you need to closely assess the features and figure out which is the closest match to your face.
To make things easy, I have got a few frame recommendations for you. Don't worry about the quality as all these sunglasses offer 100% UV 400 protection. Moreover, each pair has polarised filters so you are not bothered about the glare.
Sunglasses for a Round Face
A round face shape is gentle and lacks strong angles. Your jawline is curvy with your forehead and cheeks being equally wide.
Sunglasses in a rectangular silhouette will lend angles to your face and make it appear longer (trust me on this).
1. Martin CA1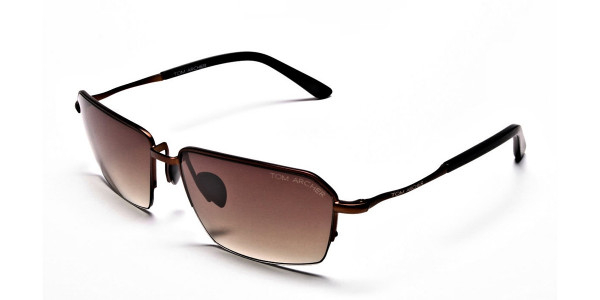 Rectangular Sunglasses is the style I find best for round face shapes. The cutting edge style will flatter your curvy features and the sleeker profile will further slim down your facial structure making it look more defined.
2. Dovile RF3
Another great option for the ladies is this cat eye sunglasses frame. These will add length to your face and the upswept look will lift your face. The sharp edges and sensuous red colour will make up for the gentleness of your round profile.
Sunglasses for an Oval Face
Oval faces have well-proportioned features where the forehead and chin are narrower than the pronounced cheekbones. If you fall in this category, you are in luck. Almost every type of sunglasses will suit your balanced symmetry.
1. Othello SB1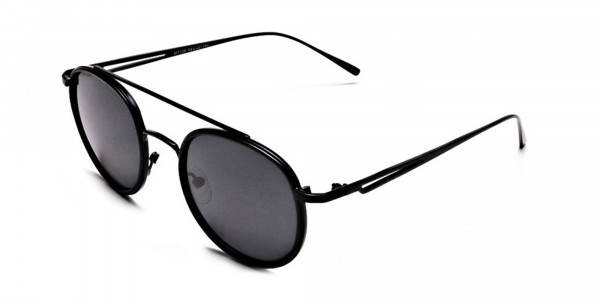 A classic round silhouette will look great against your balanced proportions. And the shape is round enough so the frame doesn't ruin your natural symmetry. Round Sunglasses give out a retro vibe while the simple frame design makes for modern minimalism.
2. Ferris NI2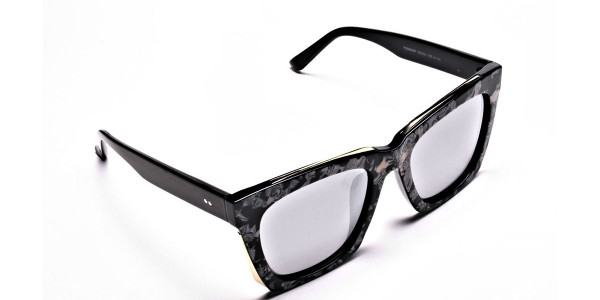 If you are not a fan of the gentleness of round sunglasses, the bold and striking contours of this chunky lad will sweep you off your feet. To spice things up, it has mirrored lenses to give an extra touch of character to your shades.
Sunglasses for a Square Face
People with a defined jawline, straight sidelines and prominent angles are said to have a square face shape. Large and soft silhouettes will work the best for your strong profile.
1. Henery SA1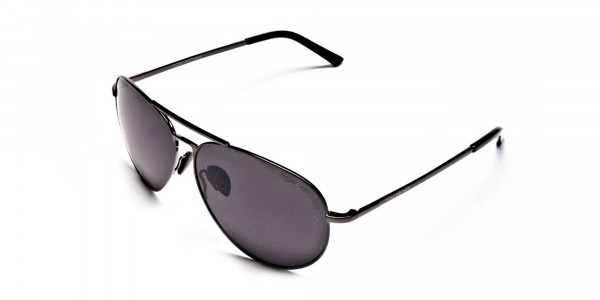 The universal shape 'Aviator Sunglasses' is perfect for your strongly defined facial shape. The grey lenses improve colour perception and contrast. The curvy edges of Henery will tone down the appearance of your sharp facial angles.
2. Dovile RF5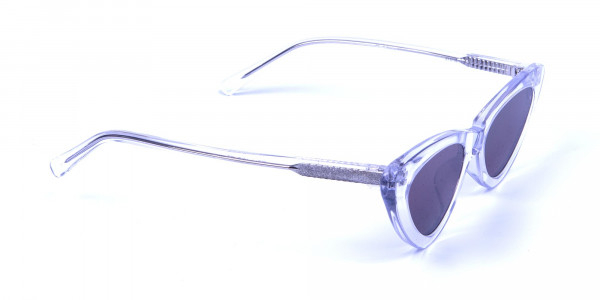 A square face shape can come across as too manly sometimes. To add a bit of flair and feminine touch to your sunglasses, why not try a soft translucent frame?
The blunt shape will soften your sharp edges while the sheer transparent frame will make you look more contemporary and relevant.
Sunglasses for a Heart-shaped Face
A heart-shaped face is widest around the cheeks with a pointed chin and comparatively narrow forehead. A lot of frames will suit you but your aim should be to improve the contrast and downplay your wide cheekbones.
1. Grace CB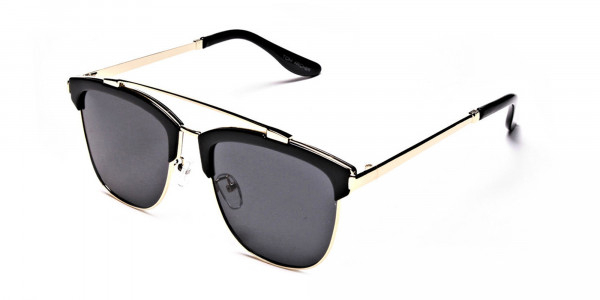 Anything that is wider at the top than they are at the bottom will add an illusion of width to the upper part of your face. The pronounced browline of Grace seems to do just that. The exposed lenses towards the bottom of these browline sunglasses will lend a gentler appeal to your pointy chin bringing balance to your symmetry.
2. Michelle FY1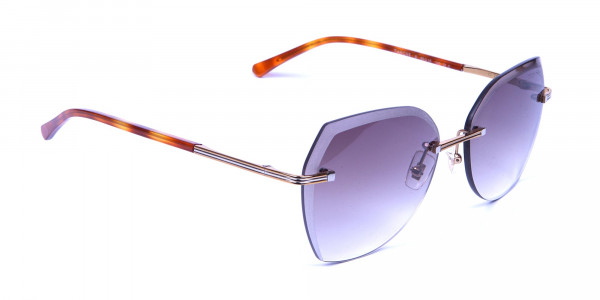 Do not get fooled by the rimless style of Michelle. It is enough to make a strong fashion statement even without a frame. Whether you are going for minimal fashion or an offbeat style, the versatility of rimless sunglasses will never cease to amaze you.
And do notice the temple arms painted in warm tortoiseshell colours giving an edge and character to your shades.
Sunglasses for a Diamond Face Shape
A diamond face shape can be defined as having high and dramatic cheekbones with narrow eye line and jawline. You need sunglasses that will bring attention to your eyes and soften the lower part of your face.
1. Andrew AH3
The charismatic Andrew is full of summer warmth and effortless styling. The shape is a cross between rectangular and wayfarer to make it both sophisticated and cool. The brown lenses with polarised and UV 400 filters, Andrew is perfect to make your summer more fun (for your eyes as well).
2. Eva NI2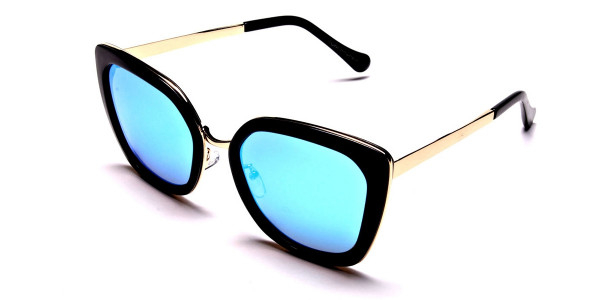 What could be cooler than blue mirrored lenses? If you are looking for an instant confidence boost, you've found the best partner in Eva. While the mirrored lenses make for an intimidating profile, the cat-eye silhouette adds a soft touch to the style. Hence, a match made in heaven.
Summer is incomplete without a pair of sunglasses. Now that you are well aware of the different styles out there for you, go and shop to your heart's fill.
Buying multiple pairs is easy when the shades are affordable. If you feel the same, you will find our low-cost sunglasses collection in good taste. Shop your heart out and don't worry about the price as you get 10% off on each pair.
Our Latest Stories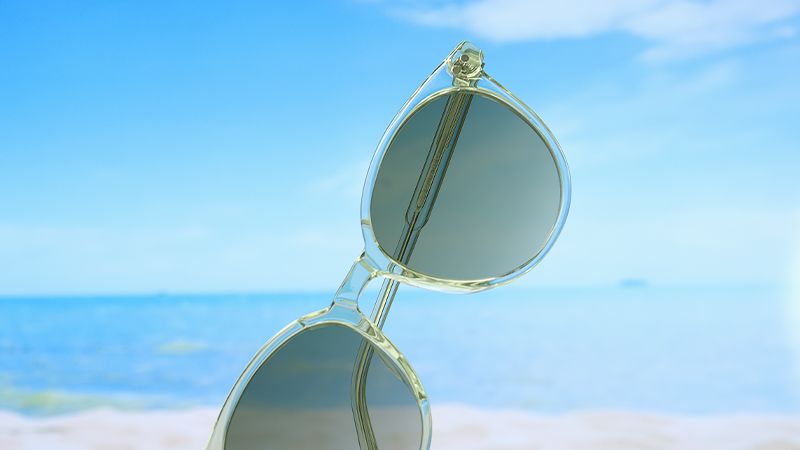 H
Halina Tseng
Published on May 26, 2022, 8:10 am
Make Waves with our Beach Sunglasses!
Beaches and sunglasses go hand-in-hand: they help you see better and block glare, while making you look cool! Should you go for polarised sunglasses? Read on!
Learn More
24Hr Dispatch Via Specscart Rocket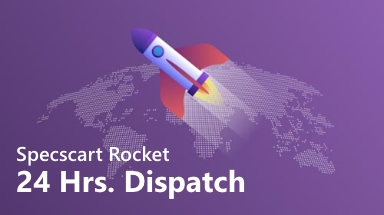 Surprisingly fast delivery for every last minute occasion. Glasses at your doorstep With a hell-for-leather chase!
Buy Now
Read More
---
Hello,
fellow reader!
An exciting offer is on the way to your inbox!
You like to read stuff, and we love that about you.
Enter your email-ID below and we will send you an exclusive offer!