Some objects are etched in pop culture history like lines carved in stone, and Brad Pitt's sunglasses precisely fall in this category. The Oscar winner's personal style and aura has changed since his breakout role in Thelma and Louise, but one thing that has remained static is his association with eyewear.
From vintage pieces to the iconic aviators he had worn in Ocean's 13, Brad Pitt's sunglasses have been among Hollywood's most iconic accessories, replicated multiple times by brands and recreated by devoted fans. In this blog, we will go through some of Brad's best sunglasses moments and help you emulate a few.
Top Five Brad Pitt's Sunglasses that Truly Stand Out
1. Brad Pitt's Tinted Glasses during the Premier of Rock Star in 2001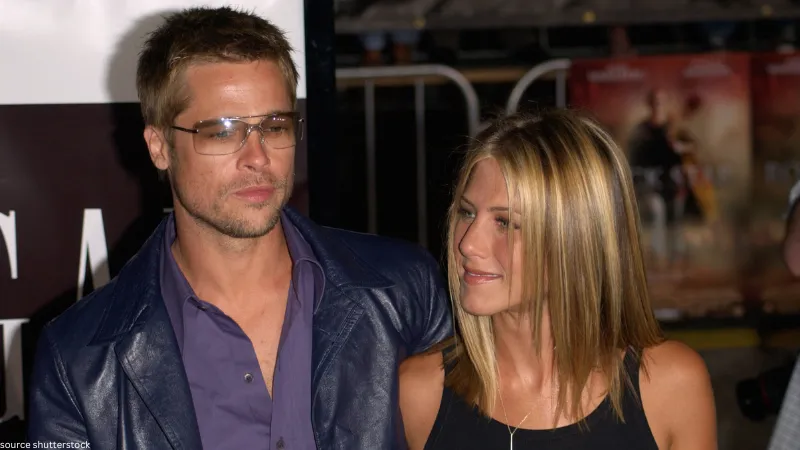 Caption: Brad Pitt looking dashing in slightly-tinted aviators
When Brad and Aniston announced their marriage in 2000, fans thought that it was a match made in heaven. Of course, Hollywood's hottest couple split and destiny had other plans for them. But even 15 years later, the duo continue to cherish their friendship. During the premier of the 2001 movie - Rockstar - Brad decided to go for a casual look that is carefully curated.
Pictured alongside the very glamorous Jennifer Anniston who was during her peak 'FRIENDS' era, the couple look as iconic as they seem in love. Brad's all-blue ensemble amalgamated with slightly tinted double-bridge aviators is a look that fans never forgot!
Jazz up your wardrobe like 2000's Brad with our JASON SC1. These double-bridged aviators have a stunning tint, and look like something an A-list movie star would wear. If Brad could not resist wearing such glasses, so we are pretty sure, you should also consider a pair!
2. Brad Pitt's Brown and Black Sunglasses for the Cannes Red Carpet of Once Upon a Time in Hollywood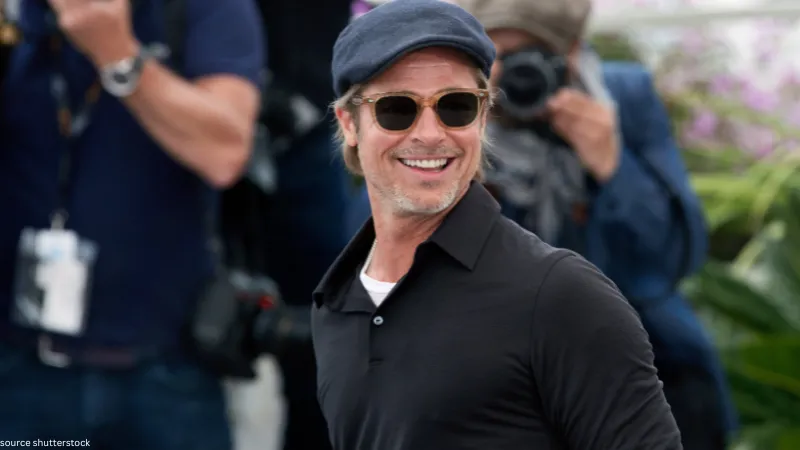 Caption: Brad Pitt can be seen wearing sunglasses on red carpet events
Brad Pitt has been a maestro of sporting black sunglasses. But, this time, he toyed around with brown tinted frames, and we just cannot keep calm. Well, who knew that brown and black would make such an iconic combination! Paired with a beret hat and black T-shirt, the entire outfit looks uber cool.
If you have been crushing over Brad Pitt's brown-framed black sunnies, then our MIDDLEWOOD 90-S can fix your problem. Made with a mixture of wood and plant-based acetate, these frames scream sustainability and high-fashion. Well, be the next Brad Pitt with these stunning sunnies.

3.Brad Pitt Donning Red Tinted Glasses for the Premier of 'The Tree of Life' at Cannes Film Festival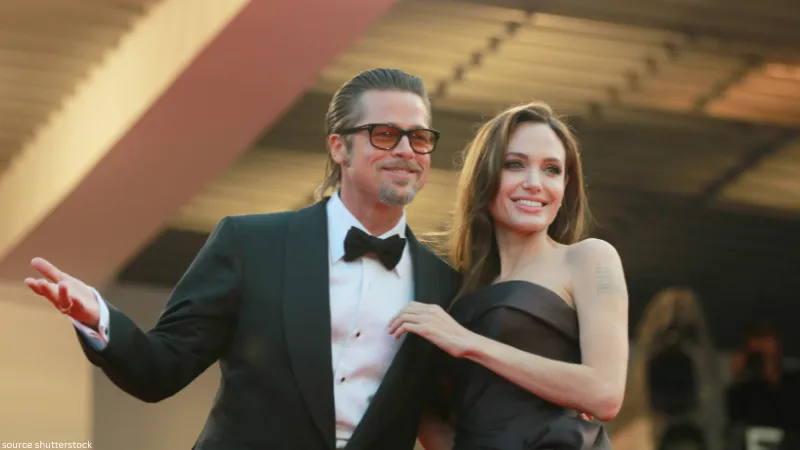 Caption: Brad Pitt wearing red tinted glasses
Brangelina's iconic era might be over, but Brad's love for tinted glasses seems evergreen. Crowned as Hollywood's most attractive couple, Brad and Angelina look both stylish and smitten. Brad's black tie attire gets a 'tangerine' spice owing to his red tinted glasses. Even after more than a decade, Brad's outfit and sunglass choices seem fresh out of the runway.
If you want to paint the town red in tinted glasses just like Brad did, then our TARBOCK 2-S can make things easier for you. With red tinted lenses and a red lining on the frame, these glasses are an absolute head-turner. Whether it is a formal event or a sporty hike with friends, these glasses will never give up on you!
4. Brad Pitt Wearing Tortoise Shell Glasses for a Movie Premiere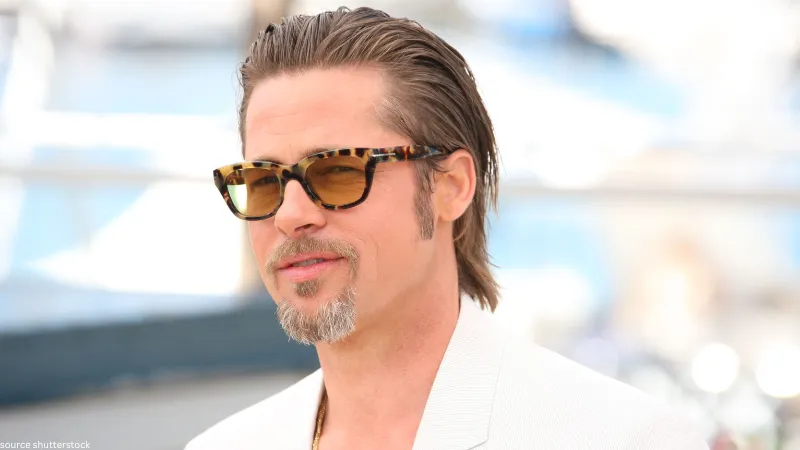 Caption: Brad Pitt can be seen experimenting with glasses
White, gold, and tortoiseshell - who would have thought that these three colours would look so amazing together. Well, Brad - the 'Chad' does it again with his crisp white suit, gold-toned glasses, and stark tortoiseshell eyewear. With a wet look hairstyle, the entire ensemble is Hollywood glamour at its peak.
Build an eyewear wardrobe as classy and timeless as Brad's by opting for AURORA 3. These upswept tortoise shell glasses say a thousand hours without even trying hard. Pair these with an all-brown or all-white outfit, and you are good to go!
Brad Pitt's Iconic Aviators for Once Upon a Time in Hollywood
Caption: Brad Pitt played the role of a stunt double in Once Upon a Time in Hollywood
Brad and Leonardo's pair in Once Upon a Time in Hollywood has been deemed the century's most iconic. Their chemistry was infectious and oozing through every moment the duo was together on screen for Quenten Terentino's Oscar-winning film. In one of the posters, Brad can be seen donning a pair of aviators, which are a cult embodiment of his role as Cliff Booth - the stunt double in the movie.
If you want to recreate Brad Pitt aka Clif Booth's 70's rugged and rustic style but at a price that does not bruise your pocket, then our HOVE 1-S can help. These classic black aviators are a must-have in everyone's wardrobe, and their charm and appeal will never fade away with time.
Final Thoughts
From movies to red carpet events, Brad's love story with sunglasses is as timeless as his movie roles. Well, one thing is clear when we analyse Brad's choice in eyewear, 'stick to the classics and add a bit of your own flair.'
Recreate Brad Pitt's fashion moments by opting for our premium yet affordable sunglasses crafted with love and care in Britain. Order today and get them delivered tomorrow with Specscart Rocket!