"Fashion is the armour to survive the reality of everyday life." - Bill Cunningham (American fashion photographer)
As the realities of life shroud our everyday existence, fashion becomes the tool to survive, stay afloat, and wriggle through the recurring monotony. Bill Cunnginhum's famous quote (mentioned above) was something that I encountered a long time ago, during my pre-teen years. But, then, the quote was never relevant or resonating enough. When you are young, you do not need to escape reality, as reality itself is almost as good as an 'illusion.'
But, as one grows older, an escapade to get through reality becomes essential. For some people, the getaway can be gaming, for others it can be art, and for a few, it is fashion (which is also a form of art). Similar to oil paints that can be moulded and merged to become something novel and unique on the canvas, fashion can also be mixed, matched, and accessorised to become something that is very personal. As someone who uses fashion as armour, I must say that eyeglasses are among the most useful tools in my arsenal.
The Journey of Eyeglasses: From Necessity to High Fashion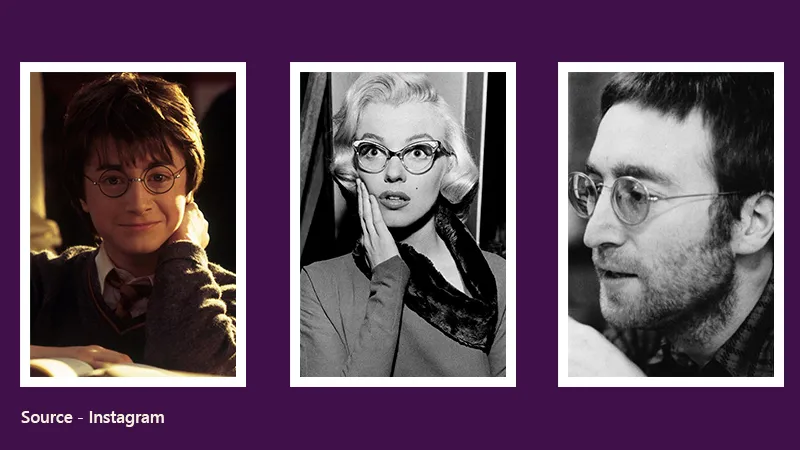 The journey of eyeglasses from being a vision-corrective device to a fashion accessory is fascinating and rather unprecedented. The idea of wearing glasses was certainly shunned until it became a style statement and was paraded in international fashion shows. Various famous personas, from Marilyn Monroe to John Lenon to Malcolm X and Lady Diana, have played their own part in making eyewear fashionable and 'hip.'
The Optical industry remained unconvinced about the fashion aesthetics of eyewear for quite a long time, particularly to the mid-1930s. Till then, designs remained conservative, and so did people's perception of glasses. However, one development during this period would go on to change the course of eyewear for decades to come. The first 'pantoscopic' frame was introduced in 1931, and for the first time ever, hinges were affixed on the upper section of the frame. This novel feature improved the performance of lenses and added an aesthetic bonus. The 'owl' look became a thing of the past and the 'cat eye' contour took over, all thanks to the trailblazing Madame Altina Schinasi, the creator of 'Harlequin' or 'cat-eye glasses.' Thus, the mainstream view of eyewear changed, albeit gradually.
Then, during the 1950s, the optical industry came up with another brilliant idea. The concept was simple - an eyewear company would pay an established fashion house a commission to add the designer's name to their frame collection and market them as creations of the fashion house. The first designer brand collaboration was between the American Optical Company and Claire McCardell in 1953. Thereafter, in 1956, the same company collaborated with pioneering haute couturier - Elsa Schiaparelli and brought out an even larger collection. Then, in the next two decades or so, an avalanche of designer eyewear would soon dispel the stigma that glasses are only for the 'nerds' and 'dorks.'
A Yale University magazine article states that it was actually from the 1970s onwards that eyeglasses started to become fashionable. Most glasses up to this point were round with wireframes, but after the 1970s, the realisation struck people that glasses could be designed in different shapes and sizes. So, these erstwhile vision correction devices gradually became a style accompaniment, thanks to people's inventiveness and of course, the cultural mood of the time. Hollywood's fixation with eyewear and its co-option to add depth and persona to a character played a major role in making eyewear a mainstream fashion choice.
Best Ways to Accessorise Eyeglasses
I have been a four-eyed fellow for as long as I can remember, and an experience in the eyewear industry means that I have aced 'optical styling.' Eyewear accessorising might seem like a complicated ordeal. But, trust me, it is an art that is not hard to master. With some simple steps and a tad bit of practice, you can easily get the answer to - 'how to style glasses'
Colour Coordinate

One of the easiest ways to ace eyeglass styling is by taking the monochromatic look. By coordinating your glasses with the outfit, you create a cohesive ensemble that looks incredibly polished and put together. For instance, by pairing a pink frame with a pink-themed outfit, you instantly elevate the style quotient by two notches. In such a context, having a frame for every game counts.

Of course, there is always scope for alteration, and your entire outfit does not have to be of the same hue as your eyewear. It is all about infusing the right colours together. For example, with blue-coloured eyeglasses, you can pair a sky-blue T-shirt and white trousers and vice versa. The possibilities are endless, and it is all about mixing and matching.
Looking for pink glasses to instantly glamourise your eyewear vanity? Our CHELSEA 1 has got your back! Housed in a flattering cat-eye silhouette and made of the best-quality metal, these frames are sure to become a staple in your life!
Minimal Jewellery Means Maximum Style

Glasses occupy a large surface area of your face. Thus, they are a statement accessory in themselves. So, when it comes to eyeglass accessories, keeping things minimal always helps. Dainty jewellery is already trendy, and they pair phenomenally well with metallic eyeglasses in gold, silver, and similar hues. Take special care in picking out your earrings, as your ears are the closest to your glasses. Thus, your earrings should not clash with your eyewear.
Mind the Makeup

The third tip on the optimal eyeglass style includes being mindful of your makeup (if you use any). Glasses can hide your eyes, but it does not imply that you cannot play around with makeup. Colourful eye pencils, graphic liners, shimmery eyeshadows, and likewise, are your best friend, as they make your eyes pop in the best possible way. Want in-depth tips on the best eye makeup for glass-wearers? Check out our latest read!
Do Not Shy Away from Experimenting

When it comes to eyewear accessories and styling, being bold can, definitely, give you brownie points. During my initiation into the eyewear world, I was hesitant about opting for bright-coloured frames and unique materials. A basic black acetate frame became my go-to. But, gradually, I realised that extravagance in eyewear is a doable feat. So, consider opting for bold-hued frames. Currently, thick frames in colours like cobalt blue, Bottega green, white, pink, etc., are incredibly trendy.
Likewise, you can also play around with different materials. For instance, wooden frames are eco-friendly and a unique choice. They are an incredible option if you want to stand out from the crowd, look intriguing, and exude a high-fashion appeal.
Looking for wooden frames that match your persona and style preferences? Our WOODHILL 90 will definitely make the cut!
Consider Your Face Shape

Last but not least, the eyeglass style stays half-baked if you do not consider your face shape. Yes, your facial structure makes a mile of a difference on what style of glasses would best flatter your face. For instance, triangle face shapes look the best in aviators, cat-eyes, and square sunglasses and glasses. On the contrary, those with a square-shaped face can rock round frames like nobody's business.

For a comprehensive guide on the best frames for your facial silhouette, check out our face shape guide!
Ace Your Eyewear Game with Best-quality Frames
In a nutshell, the best eyeglasses accessories include jewellery, makeup, and confidence. Since the 1900s, eyewear has transitioned from a mere means of vision correction to a sought-after style accompaniment. Currently, around 4 billion people in the world wear glasses. Thus, they are no longer an oddity but a ubiquity, donned by almost every other person. Hence, by combining style and vision care, glasses are truly a timeless accessory.
References
https://www.who.int/news/item/08-10-2019-who-launches-first-world-report-on-vision
https://campuspress.yale.edu/ledger/how-did-glasses-become-a-fashion-statement/