As the wedding bells chime all around the United Kingdom, it is time to provide your wardrobe a much-needed revamp. As the OG bridesmaid of Specscart, who has been the 'maid of honour,' for two best-friends, I can offer some insider scoop on how to perfectly flaunt formal sunglasses for an outdoor wedding event! Whether you are the bride/groom or the bridesmaid/best man, this blog has something for everyone!
Eyewear in Outdoor Weddings: Is It a Thing?
Well, it is understandable to ask the million dollar question - 'can I wear sunglasses for weddings?' And, let me tell you, there is no one-size-fits-all when it comes to wedding-related eyewear etiquettes. To begin with, sunglasses can be an excellent accessory during outdoor ceremonies, as they not only protect your eyes from the sun's scorching heat, but also create a high-impact look.
As it is obvious, outdoor weddings are, undoubtedly, ethereal. The open landscape heightens the emotions, elegance, and aesthetics of nuptials, and also doubles up the fun! However, dressing up during outdoor weddings becomes a tad bit tricky. The sun's glaring rays can make dressing up a bit more challenging! To avoid constant squinting, wearing the right wedding sunglasses becomes important. And, by now, we all know the harms that UVA and UVB rays cause to our eyes.
The nature of sunglasses lends itself to every bridal aesthetic imaginable. And, when we talk about the do's and don'ts of wedding sunglasses, the topic is up for debate. You might bump into some etiquette specialists who are absolutely averse to putting on sunglasses during weddings. But, the advice is hard to follow, when you are sweltering under the blazing sun.As a large number of outdoor weddings are turning traditions on their head, donning sunglasses have become equally popular during events.
Bridal Sunglasses: What is the Catch?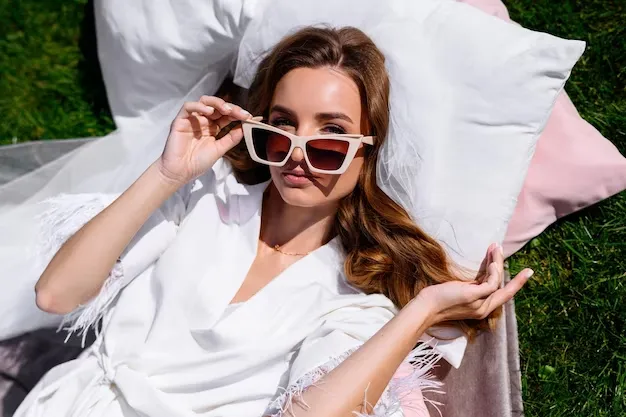 To begin with, bridal sunglasses are a major trend this 2023, and are more than acceptable. Of course, donning a pair of eye-catching sunnies during the essential moments, such as, when you say 'I do,' is a tad bit of a faux pas. But, in other casual moments, such as relaxing, clicking outdoor photographs, dancing with the guests, sunglasses can add some spice and oomph to your ensemble.
However, anything without some basic rules tends to go haywire, and the same goes for bridal sunnies. While choosing the white bride sunglasses, be extremely mindful of the colour and shape of the eyewear. Go for neutral acetates, such as whites, beiges, rose-gold or cream-hued frames. Of course, when in doubt, opt for black sunglasses, as they will never let you down. Similarly, when we talk about shape, stay within safe realms, by opting for classic silhouettes, such as cat-eyes, moderately oversized square sunglasses, etc. If you want to wear the trendiest summer shades as an upcoming bridal event, then read our blog!
Looking for your go-to bridal sunglasses for an outdoor wedding, our DOVILE cat-eyes have got your back!
Groom's Sunglasses: Are They Acceptable?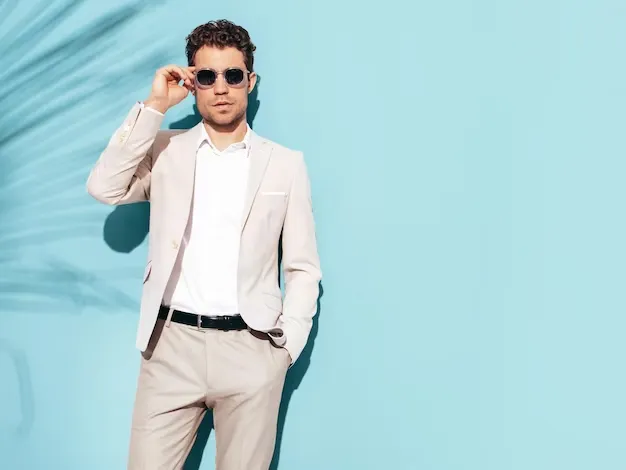 Much like brides, grooms can also wear sunglasses. Of course, donning them during crucial moments, such as when it is time to 'kiss the bridge' is a bit of a no-no! But, during outdoor photoshoots, dancing ceremonies, simply enjoying, etc sunglasses can be a great choice.
The best sunglasses for grooms include classic frames, such as round, or square sunnies . Moreover, make sure to avoid sporty or too-funky pairs, as they will clash with the gravitas of your tuxedo. Black and neutral-hued sunglasses made of acetates or metals are a good way to go about! Besides, mirrored or gently tinted sunnies can also be a phenomenal choice to look dapper and also stay safe from the sun during your outdoor nuptials!
For an uber-classic and super-suave sunglass that will add more glory to your wedding, opt for our BUSK 2!
Bridesmaid Sunglasses
Bridesmaids are the heart and soul of any marriage ceremony. Having been a 'bridesmaid' and 'maid of honour' for many of my friends, I can confidently say that do not skip on those sunnies. For fun bachelorette events, outdoor photoshoots with the bride, or simply clicking some quirky pictures, sunglasses can be an excellent companion! Personally, I have worn sunglasses to a lot of weddings, and they never seem out of place. The key is to read the room, and make sure that they align with the vibe of the ceremony and the specific function happening at the time.
Of course, you can wear black tinted sunnies as a bridesmaid to your best friend, but colour co-ordinating is also a viable option. Matching the shades with your dress can help create a cohesive look. Besides, tinted cat-eye sunnies, or small rectangular frames are a great way to add some high-fashion pop to your attire. So, do not fret, and rock those bridesmaid sunnies like a queen!
For a pretty pink outdoor wedding during the British summers, look no further than our BROOKE 2!
Groomsmen Sunglasses: An Excellent Accessory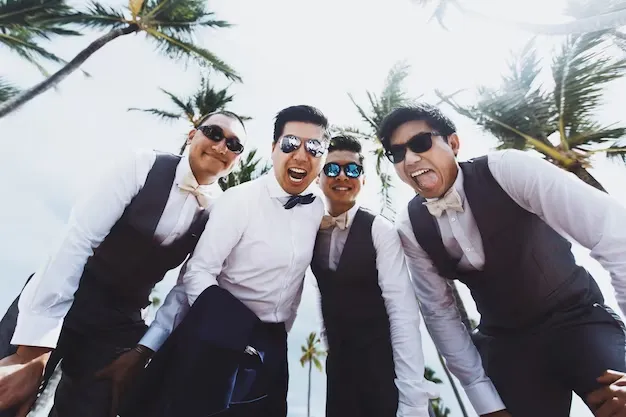 Last but not least, how can we forget our groomsmen, who add warmth, vibrancy, and uber-coolness to any wedding nuptials. As a groomsman, you can definitely wear sunglasses, especially during outdoor ceremonies. They are a great accessory to make an impressive entry into the wedding venue with your mates. Formal sunglasses can elevate the appeal of your tuxedo, and make you look all the more dapper! For the most stylish men's eyewear guide, check our latest blog!
To get that gallant groomsman look and elevate your 'dapper' currency, our CHESTER is all you need!
Sunglasses: The 'It' Accessories for Outdoor Weddings
Whether you are a bride, groom, bridesmaid, or groomsman, wedding sunglasses are something that will never let you down. They add fun and alacrity to your look, and complement the exuberance of outdoor nuptials. So, this wedding season, do not hesitate to experiment with eyewear.