"August slipped away in a moment of time" to let the beauty of the Autumn season engulf us in its full glory. As the Sycamore and English Oak trees begin to burn bright in orange hues and the trees brace for the dry winters, it is time that your wardrobe also gets a makeover. So, while you don the chunky knits and sip on the pumpkin-spiced lattes, immerse in the beauty of the British autumn, why not give your eyewear vanity a quick touch-up?
Fall fashion is not just about elevating your clothes and shoes, it also includes enhancing your eyewear vanity. Nowadays, glasses are no longer a mere means of vision correction. They have, in fact, transformed into fashion accessories with the potential to transform an outfit and your overall look. Eyeglasses are the most prominent accessories sitting on your face. Thus, they deserve a thoughtful putting-together. The Specscart squad firmly believes that if you want to look your best this autumn, an eyewear makeover with the right glasses is a must!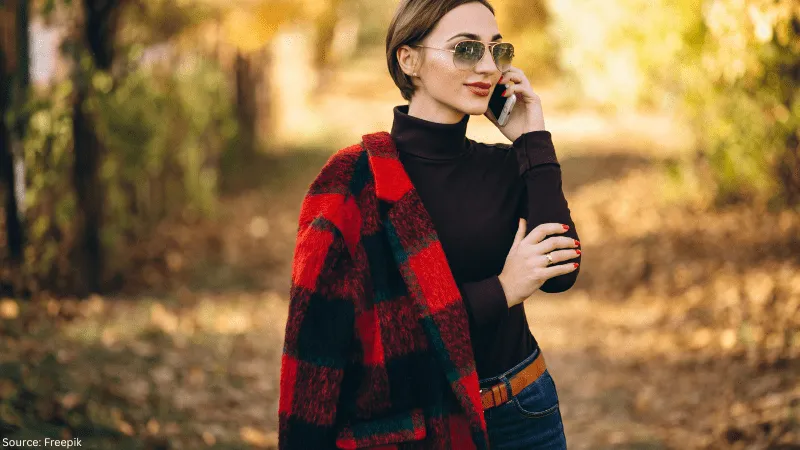 What is Autumn Fashion All About?
Autumn's style represents the best of both worlds. You get the vibrant and rich colours of summer and the chunky knits and cosy layers of the winter. So, it is really understandable why fashionistas love fall fashion. Although the style sensibilities of the autumn season have similarities throughout the years, the nitty-gritty trends keep on changing.
In 2023, the biggest fall trend is the colour red. Contrary to the typical earthy and muted tones that many people associate with fall, the trend this year has transitioned towards bolder and beguiling colours, especially red. Shades of red seek attention and exude a mesmerising vibrancy while reflecting true-blue autumn vibes.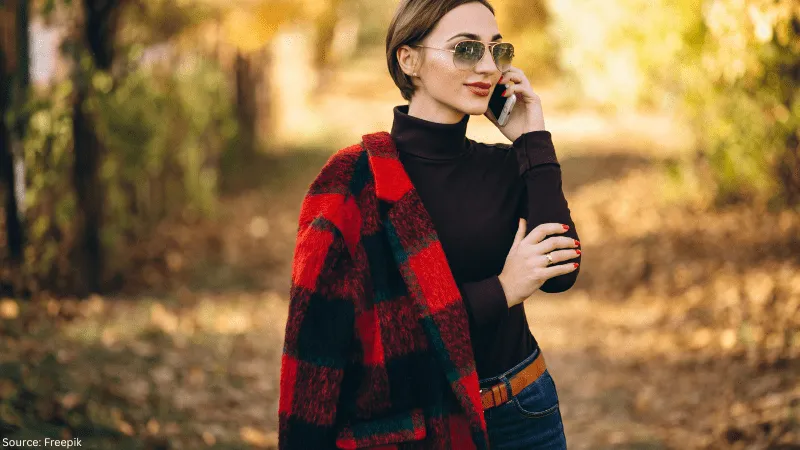 Another super-stylish and wearable autumn fashion trend is the top-shelf tartan. With its plaid patterns and woven textures and an inherently comfy appeal, tartan is an evergreen fall autumn that has found a high-fashion expression this season. From tartan shawls to sleek woollen skirts, the options are many!
Thirdly, is any conversation about autumn fashion trends even complete without considering turtlenecks? Well, turtlenecks are a timeless and classy piece, but this year, they have also become the favourites of designers and mega fashion houses. To add some oomph to your basic turtlenecks, opt for vivacious jewel-tone colours like magenta and cobalt blue, and pair them with neckline-accentuating jewellery.
Now that we have touched upon the basics of autumn fashion trends 2023, let us check out the most sizzling autumn glasses bound to make heads turn.
Top 5 Trendiest Autumn Glasses
Specscart's Autumn Collection includes a range of flattering frames that combine runway-ready trends with classic elements. These glasses pay homage to the beauty of the fall season. As described by the English poet - John Keats, the 'season of mists and mellow fruitfulness' deserves to be cherished and celebrated with open arms.
1.Tipton 4 - Duo-toned Cat-eye Glasses Tributing Autumn Colours
Sleek, stylish, and oh-so-trendy, our TIPTON 4 is a masterclass in autumn eyewear. Combining shades from two of the hottest fall trends - silver or metallic hues and orange accents, these frames are ideal for anyone aiming to create a capsule wardrobe for the season.
While designing the TIPTON 4, our style experts combined the monumental rage of metallics seen on the most renowned runway shows and provided it with a more muted and wearable twist. And how could we not include the OG colour of the season - orange! Thus, these frames are a well-thought-out brainchild specifically curated to embody all things autumn.
Style Tip: A chunky turtleneck knit in red or purple paired with our TIPTON 4 would be an absolute delight to look at. The vivaciousness and depth of the frames will be further elevated when combined with jewel-toned fall pieces.
2.HAWLEY 3 - Glasses Made to Complement the Sheer Dress Autumn Trend
A very ethereal fashion trend of autumn 2023 is layering summer maxi dresses with warmers and slinky sweaters. The trend is flowy and flirty, and excellent if you like reminiscing about spring during the fall. But, what glasses would go well with such a trend? Well, fret not, as our fashion experts have thought about it all! The flirty and fresh look of sheer summer dresses requires something feminine, and this is precisely when our HAWLEY 3 comes into the picture.
Made of premium-quality acetate and painted in a soothing crystal coral orange hue, these full-rim round glasses are a sight to behold. A true-blue ode to autumn, which will be phenomenal with your sheer maxi dresses, the HAWLEY 3 is all you need!
Style Tip: Pair your HAWLEY 3 with a sheer peach long dress and layer it with a beige warmer for a cohesive and chic appearance!
Want to know which glasses from our Autumn Collection would flatter your face shape? Check our face shape guide!
3.WALSHAW 4 - Classy Glasses for a Cozy Autumn Vibe
The third autumn glass that will sweep you off your feet is our WALSHAW 4. These full-rim square glasses embody the cosiness and comfort of the autumn season and would go incredibly well with your plaid and tartan jackets and blazers. The gradient green tortoiseshell print is a masterclass in fall eyewear fashion. Our style experts have carefully curated these glasses by keeping in mind the most popular outfit choices of Mancunians and Britishers during this amber-red season.
Style Tip: Pair your WALSHAW 4 with a brown or black plaid blazer, a beige turtleneck, and black boots for a sophisticated and trendy fall look!
4.LAPWORTH 4 - Embrace the Colour of the Season
Bask into the hottest and trendiest colour of autumn 2023 - red, with our LAPWORTH 4. Your fall fashion shenanigans should not be limited to a red coat or a vibrant ruby knit. The most prominent accessories on your face - eyeglasses - can also be used to flaunt high fashion. As we had already mentioned, this autumn season is all about the bold and vivacity of red and its many variants, and our LAPWORTH 4 is designed to fit that bill.
After a rigorous and thorough trend analysis, our style experts have come up with a sleek red cat eye prescription eyeglass frames for our autumn collection. Made of best-quality acetate and infused with intricate accents, these red glasses redefine autumny-gorgeousness in all its vivid glory.
Style Tip: Pair your LAPWORTH 4 with a red tartan shawl or blazer, knee-high boots, and a brown leather skirt or trousers for an impeccably polished ensemble.
5.BLACKROD 4 - Autumn Fashion Gets a Neutral Twist
Yes, autumn is all about rustic shades that indicate the arrival of the holiday season and embody a warm goodbye to the summers. Along with quintessential autumn shades like pumpkin orange, deep purple, red, and rust, it is essential that we do not forget our neutrals. Colours like khaki, brown, and beige get the love and attention they deserve during the autumn season. So, if you are a fan of ultra-classy and the quiet luxury aesthetic, our BLACKROD 4 will definitely tug at your heartstrings.
These olive green and gold round glasses with a tortoiseshell temple radiate the warmth of the fall season while being an excellent fit for all your outfits. Composed of the highest-quality metal and crafted by the finest artisans of Britain, our BLACKROD 4 is truly the 'Big Daddy' of fall fashion.
Style Tip: Pair your BLACKROD 4 with a beige or brown turtleneck or coat and accessorise with gold jewellery for a sophisticated look.
Explore Autumn-inspired Collection
Specscart's Autumn Collection pays homage to the season of colours and cosiness. With glasses available in the trendiest fall fashion elements, you are sure to find a pair that speaks to and for your style sensibilities. In case of confusion and perplexity, opt for our free Home Trial Box and try four autumn-inspired frames from your home's comfort.