Did you know that roughly 80% of what your child learns before the age of 13 is presented visually? This implies that optimal vision is crucial for the normal growth and development of kids. Moreover, in the modern era when students rely heavily on digital screens for their studies, it becomes even more important to keep a check on their vision. So just like us, kids too need regular eye checkups. Read on to know why and when you should leverage our free eye test in Walkden (Manchester):
Why is an eye test important?
Regular eye tests help in early detection of eye problems. An early detection of eye defects gives an opportunity to correct them at an earlier stage so your child is able to socialise normally as soon as possible.
Minor eye defects can develop into serious blindness when not corrected on time. Early detection helps in prompt management of eye defects that prevent progression of diseases that can impair the eyesight of your child for life.
While wearing sunglasses and reading glasses is a great preventive measure to avoid light damage, regular eye checkups also ensure normal visual development and overall well being of the child.
Annual eye tests become even more important when your child wears prescription glasses.
Frequency of eye tests for children
A lot of parents don't realise that their kid needs an eye test during the initial stages of the birth. According to visual impairment statistics, six out of every hundred children in the UK suffer from at least one eye problem in the first three years of their birth. If you ask 'When should I take my child to the eye doctor for the first time?', here is the answer:
Your kid is tested for any eye impairments within the first 72 hours of the birth during the newborn physical examination.

The second exam is conducted within 6 to 8 weeks of the birth to detect any problems that the doctors might have missed during the first checkup.

The third eye test is conducted when the kid is 2 years old when the parents feel any concerns regarding the eyesight of their child.

Next, at the age of 4 or 5, your child can be examined for reduced vision in one or both the eyes soon after he starts his school. If your kid's vision is not checked in the school, you can take him or her for a free eye test in Bury.

Thereafter, you can get them checked every 1-2 years.
Also, here are some clear signs that your kid needs to see an eye doctor:
He is complaining about frequent head, neck or back aches.
He has problems reading or identifying different alphabets, numbers or symbols.
He is rubbing his eyes excessively.
He is squinting to be able to see clearly.
He is tilting his head or covering one eye.
He is holding the tablet or smartphone too close to the eyes or sitting too close to the television.
He is frequently tripping over or bumping into objects.
He has teary eyes frequently.
He shows poor performance in sports that require hand and eye coordination.
He is blinking while trying to concentrate on things.
What to expect at a child eye exam in the UK?
At the optometrist, your kid can be tested for the following:
Amblyopia (lazy eye)

Strabismus

Childhood cataracts

Myopia (nearsightedness)

Hyperopia (farsightedness)

Colour blindness

Astigmatism
The doctor will do a physical eye test with the help of pictures, letters, and a child eye test chart. If the child is older, he can be asked to identify images of things like a house, a dog, a car, etc. If needed, the doctor can recommend wearing glasses with an anti-blue light coating to prevent damage from high intensity blue rays emitted by tech screens.
Free NHS eye test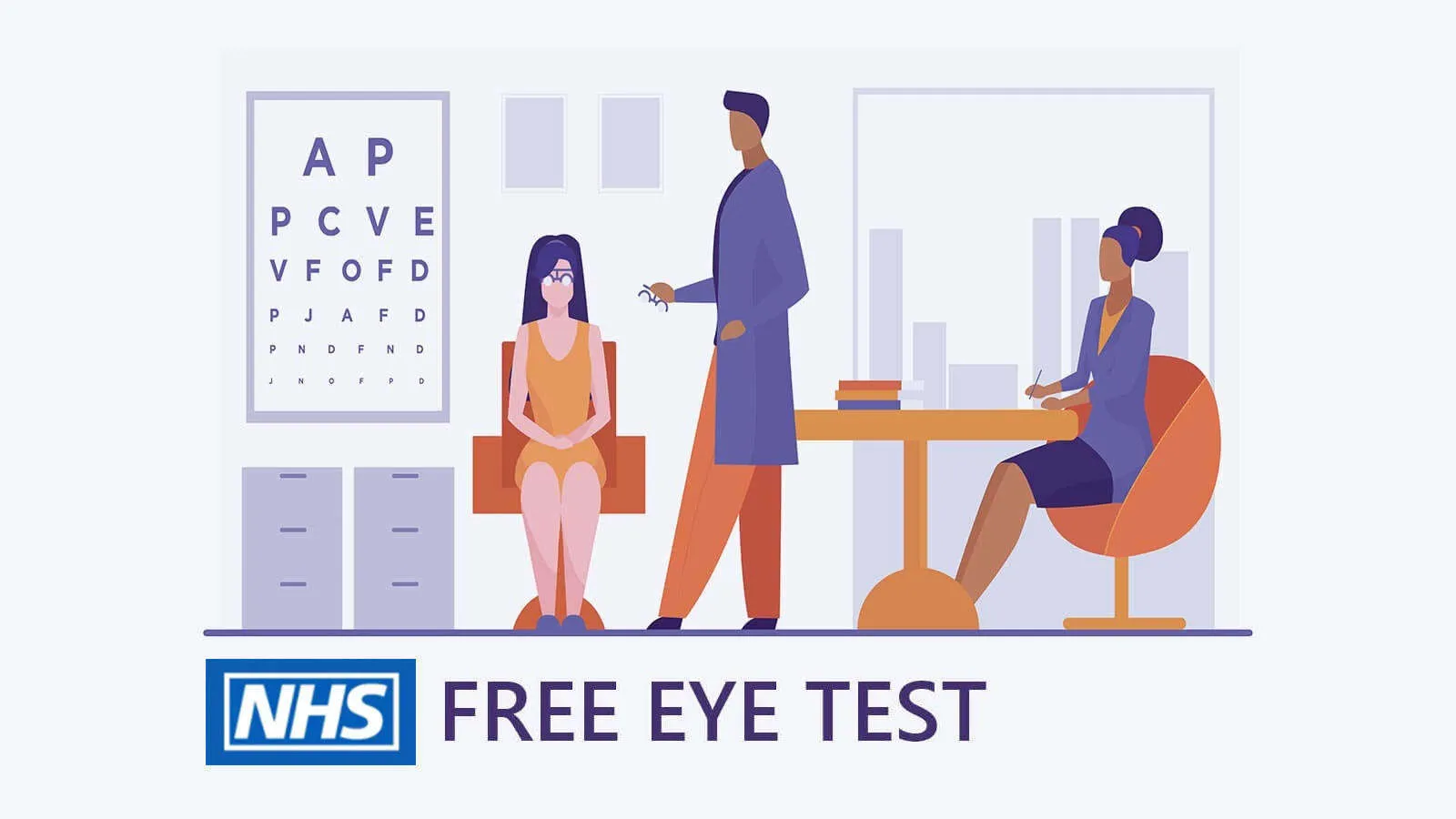 Every kid in the UK under the age of 16 is entitled for a free NHS eye test. The kid also gets an additional voucher to cover the cost of his glasses or contact lenses. If the kid is 16, 17, or 18 years old, he can still avail the free eye test service by NHS if he is in full-time education. You can get more information on NHS free eye test vouchers on their official website.
If you are a working parent and find a home service more convenient, you can book a home eye test by Specscart. This service helps you avail an elaborate eye test by an expert professional from the comfort and convenience of your home.