Hipsters are a bit more fashionable in terms of their clothing, music and glasses choices. They prefer their style and dwell it with an unconventional method. In the eyewear market, hipster glasses style is considered to be a new cool. You might be a hipster and one thing hipster-like accessories in their looks are wearing cool glasses. Hipsters love iconic retro, oversized, squared, wayfarer and cool crafted plastic-framed glasses. Most of them wear those glasses even though they have brilliant 20/20 vision, at this point glasses become a part of their personality. It adds amplification to their look, separates them from the ordinary and basic human beings and looks more artistic. A good pair of hipster glasses frames that emphasise their style, uniqueness and authenticity make the ultimate contemporary accessory. Independent style and latest trend updated, Specscart got the best range of hipster glasses that are perfectly fashion aware and vintage.
What is a Hipster Culture?
Hipster culture is all about bohemian style, expressing your emotions and life through your clothes, accessories, lifestyle choices and activities. Hipster people, in general, don't follow the traditional line of occupation but switch towards a carefree and independent way of life. They are tremendously fashion-conscious and follow the latest trend to add a dose of fun and glamour in their life. Their interest is mostly inclined towards fashion, culture and being open for any type of style statement. Meeting new people and enjoying the different cultural experiences is what adds essence to life.
What are Hipster Glasses?
Hipster glasses are a mix of funky design, retro style and bold colours that makes a bold fashion statement. Uniquely custom designed and colours used to draw attention to your fashion and face. They are here to stand out from the crowd and scream and shout in a chilled and funky style, establishing art, creativity and individuality. Progressive piece of glasses that looks adventurous while also expressing your persona through it. They don't vary on hipster glasses men and hipster glasses women but are collectively made for both the gender because anyone can be cool and progressive. These hipster glasses for men and women radiate glow, fun and excitement whenever you are in the room with them. Edgy and full of fun-loving atmosphere, these hipster glasses incorporate a trend-setting style that completely attracts various artistic souls like musicians, tastemakers, artists and painters, etc.
At Specscart, you can get all new trendy and latest hipster glasses with a wide variety of frames and colour, starting from options such hipster prescription glasses, hipster reading glasses, hipster clear lens glasses and hipster blue light glasses. Find the one that matched your expectations and rock them.

Select the best hipster glasses that reflect your personality and looks fashionable
1. Matte Black Browline Glass- Elegant and Intellectual
This sleek designed matte black browline glasses in the half-rim frame is the perfect type of shape and design needed to make a sophisticated style stamen. This type of design and style is a hallmark of the hipster style that essentially captures the artistic personality. At first, they give you philosophical vibes but also as an ultimate fashion statement. A mix of round and browline style with a half rim frame made with metal and matte black colour makes a brilliant choice.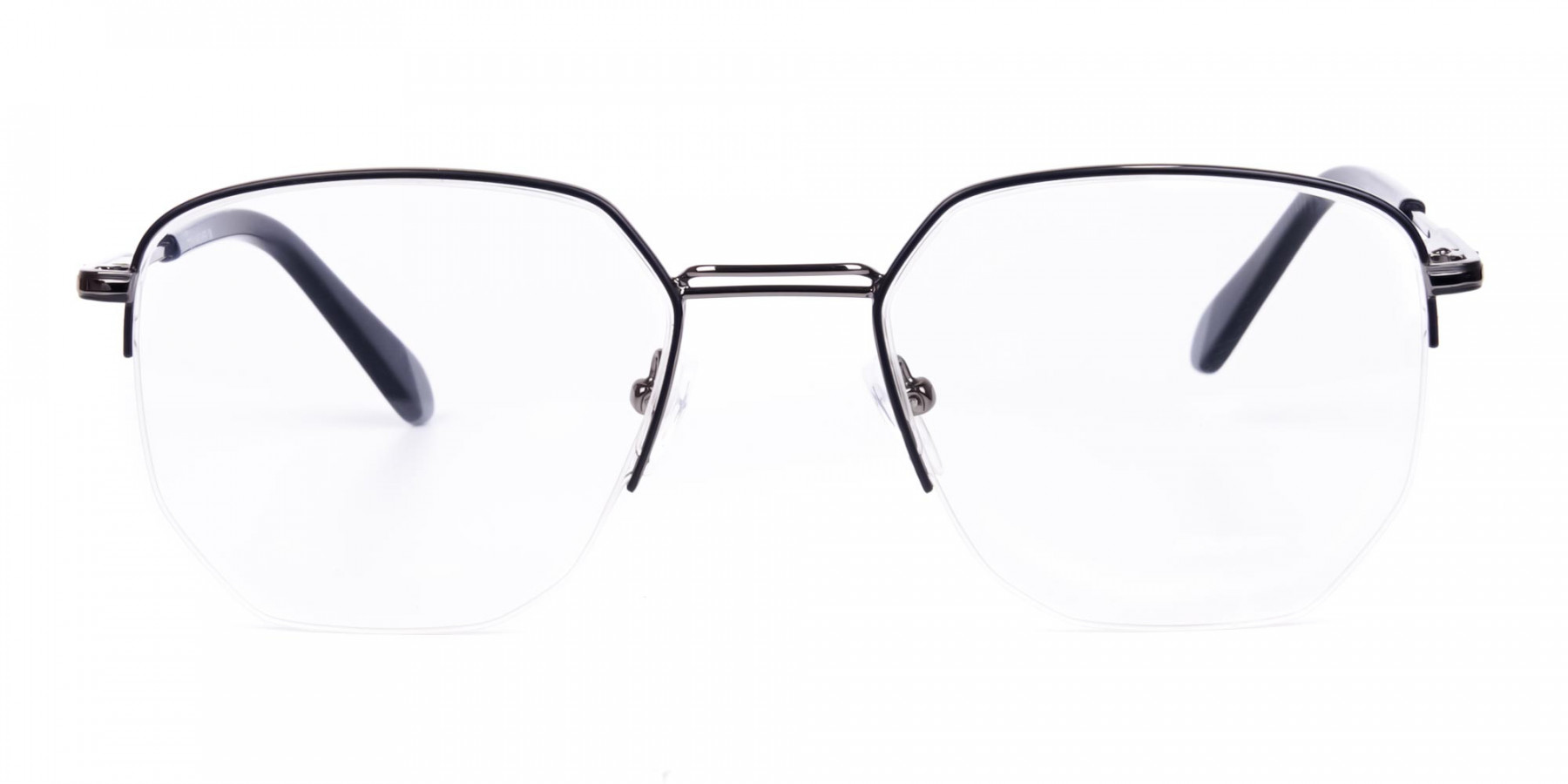 Check this frame GOSFORTH 1.
2. Classic Black with White Twist – A fun Alternative
This brand new hipster Black and white hipster glass has a super cool view modern view. The two tones frame makes it new trendy glasses which pulls a sophisticated look while a mix of bit mischievous attached with it. Unconventional in design and apart from traditional design, these glasses perfectly capture your personality of fun and smart altogether. Full rim wayfarer design with acetate and metal material makes fresh-faced glasses of all time. The temple design is another marvellous as it is made with lustrous shiny silver that radiates a fresh and youthful appearance.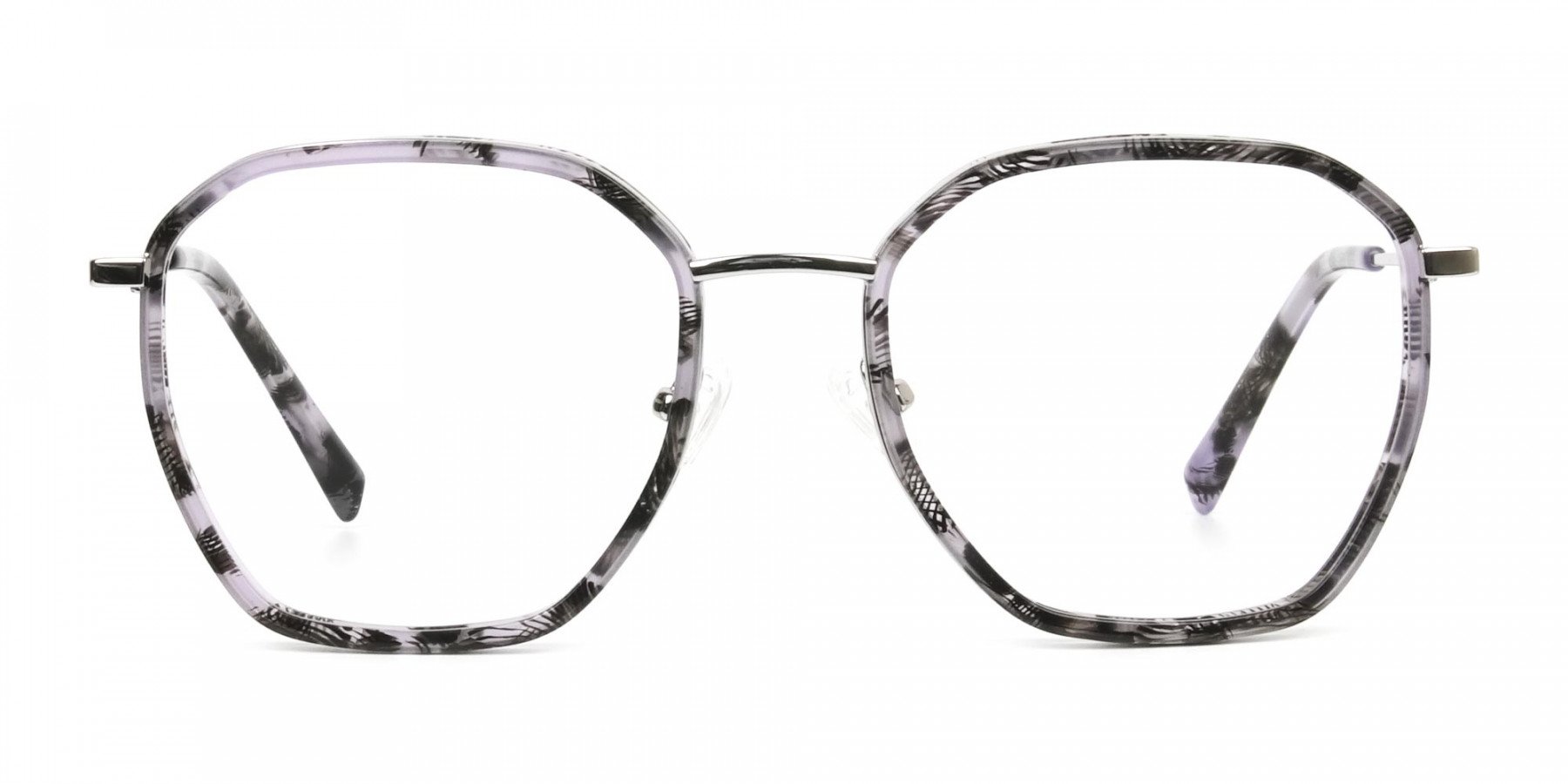 Check this frame HOLMES 1.
3. Heavy Half-rimmed Black - Powerful and Supremacy
If this glass reflects sweet nostalgia then you have got the significance. These beautiful bold half-rimmed glasses are artistically created for a fun and eye-catching valiant exterior. These glasses were an iconic signature glasses of various celebrities and now Instagram has completely consumed it. Chic and neat designed frames create a captivating impression with striking black colour to the frame. The shiny lustre makes it flashy but the bold black design balances out the lustre, giving you a balanced amount of attractive look. Manage to give supremacy and powerful look with the sleek full rim black and gold colour framed with acetate and metal mix of material.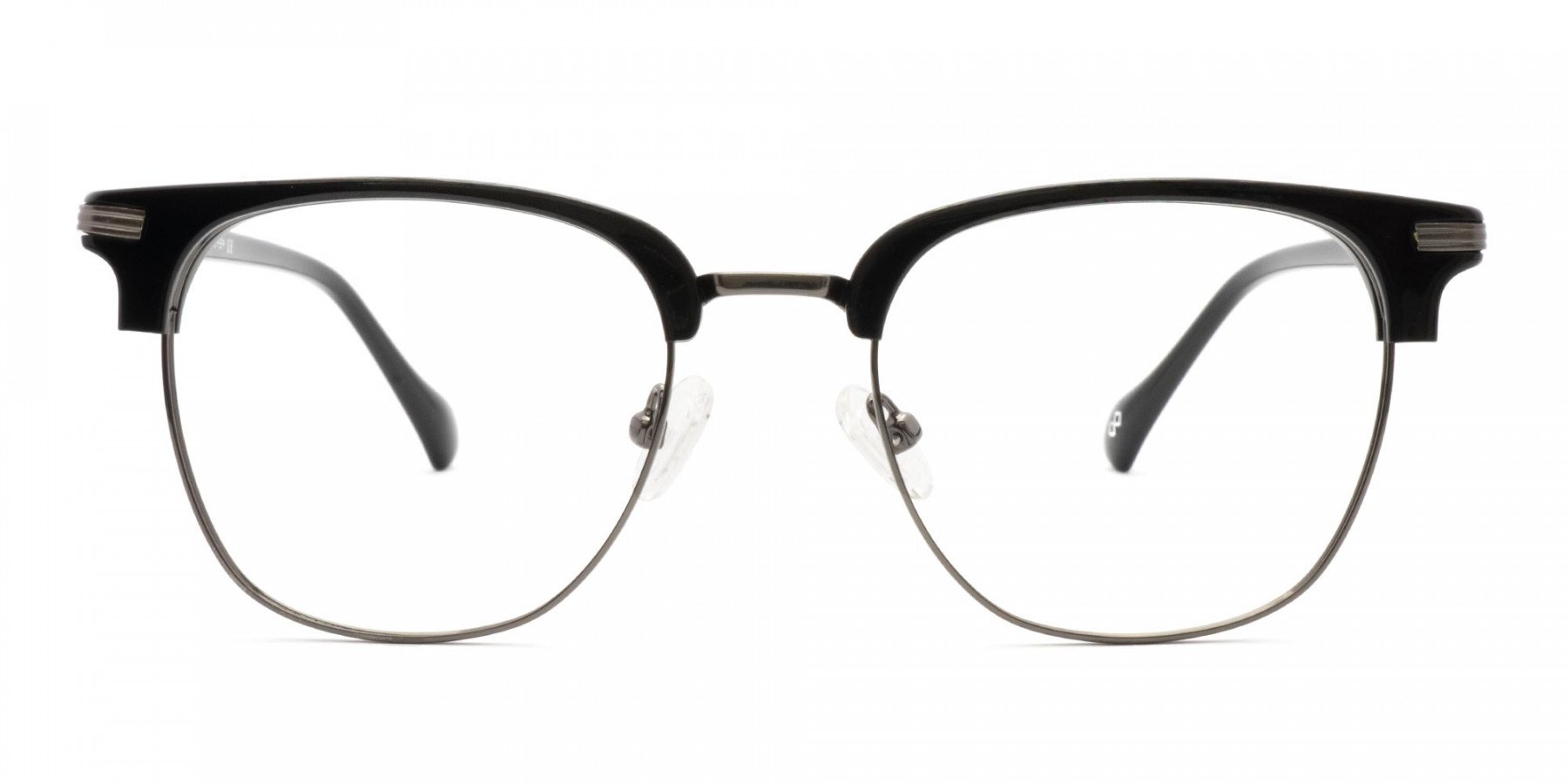 Check this frame ROB TA1.
4. Marble Rose Red - Groovy and Funky
The rich calorific design with passionate colours brings out the most exciting adventure to your look. These marbles designed frames add vibrancy and enthusiasm. They are not dull and come with the basic design but are a mix of bold and beautiful zesty colours that not only adds mystique gaze but also romantic tone. Full-rimmed marble rose red frame design with acetate material makes a wholesome sturdy designed eyewear. The exceptional marble rose red design temple adds a remarkable touch to the hipster glasses.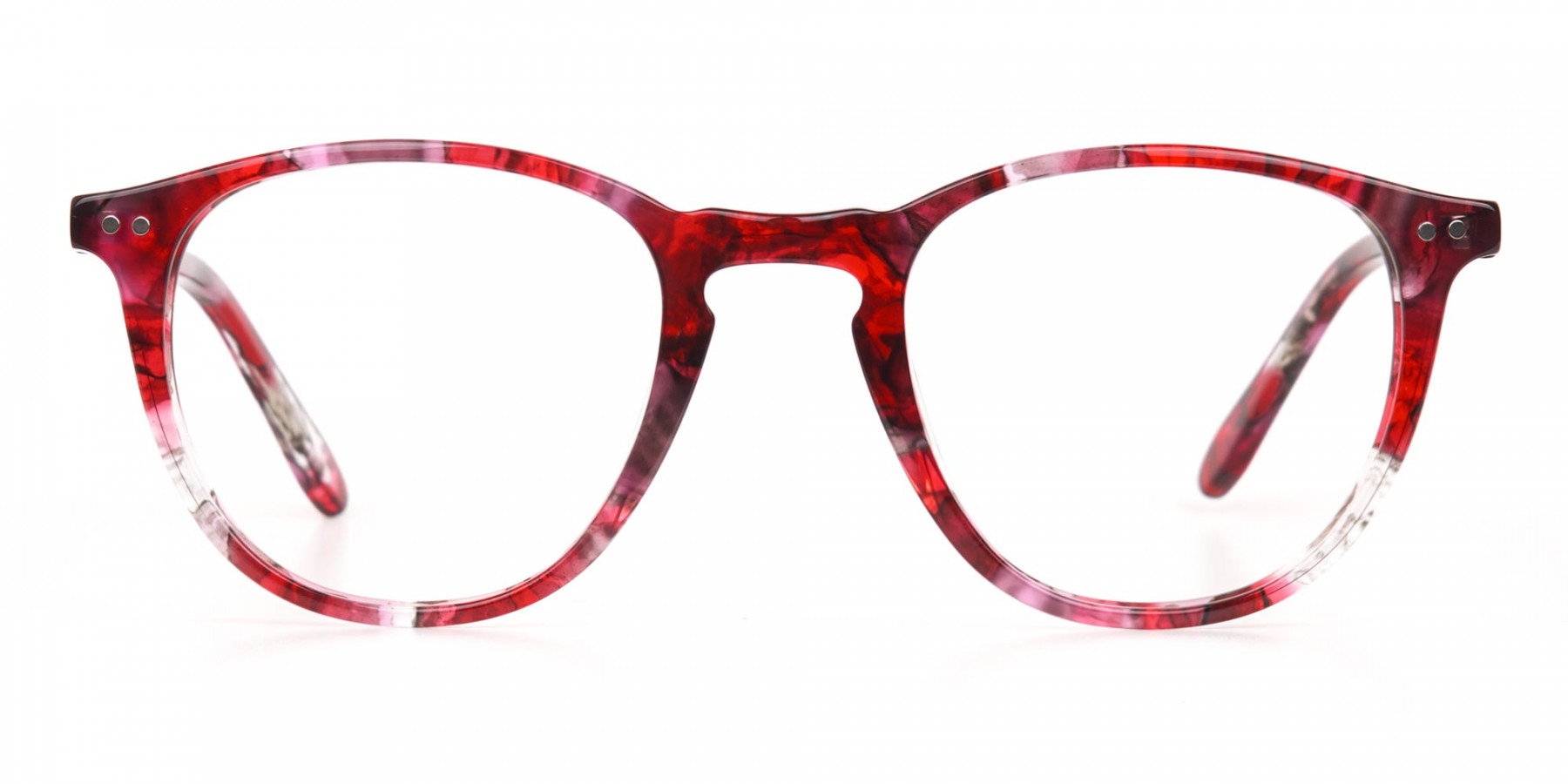 Check this frame ORSLOW 3.
5. Teal & Crystal Clear –Full of attention and Glitz
These glasses are a gorgeous combination of wayfarer and cat-eye. They are unique and are from the stunning Chesham collection. The transparent bottom part of the rims, which gives the frames the appearance of browlines make them more desirable. The look and appearance is fantastic for a classy trip to the neighbourhood theatre or for a casual run through the city. You can also purchase these glasses with anti-blue light lenses if that's what you want!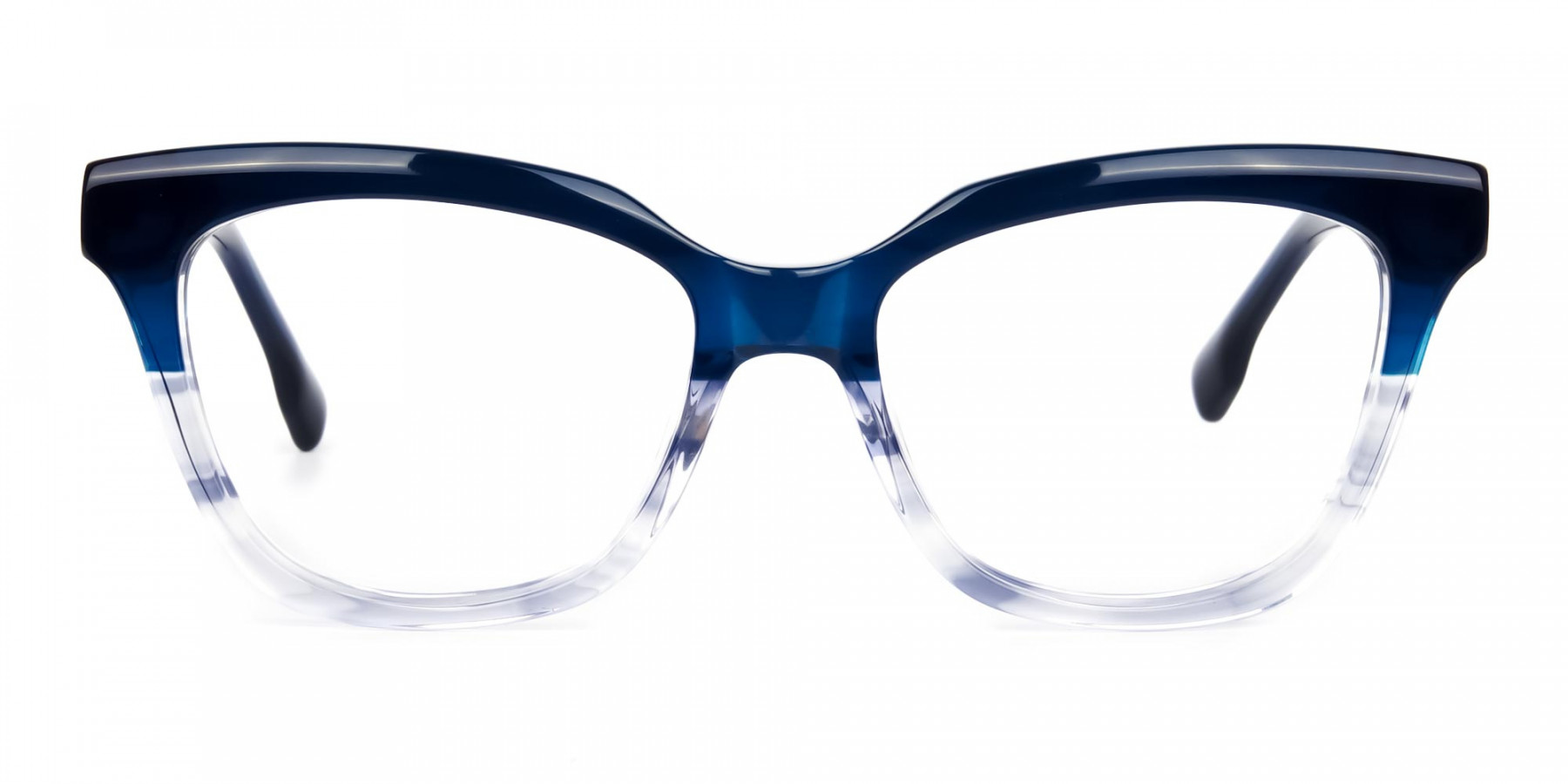 Check this frame CHESHAM 3.
6. Marble Grey Glasses – Youthful and Refreshing
These glasses itself talk about the person without even making an effort. These brilliant marble grey glasses are completely unconventional and breathe fresh air. A fashionable and groovy hipster glasses that add a twist to your retro design. The white temple makes it an epitome of an ultimate fashion statement as they are light and sturdy smudge designed with an artistic touch. Sporty, stylish and comfortable marble grey glasses are the new precious treasure of latest style in full rim acetate suitable to keep you revitalising and maintaining a fresh look.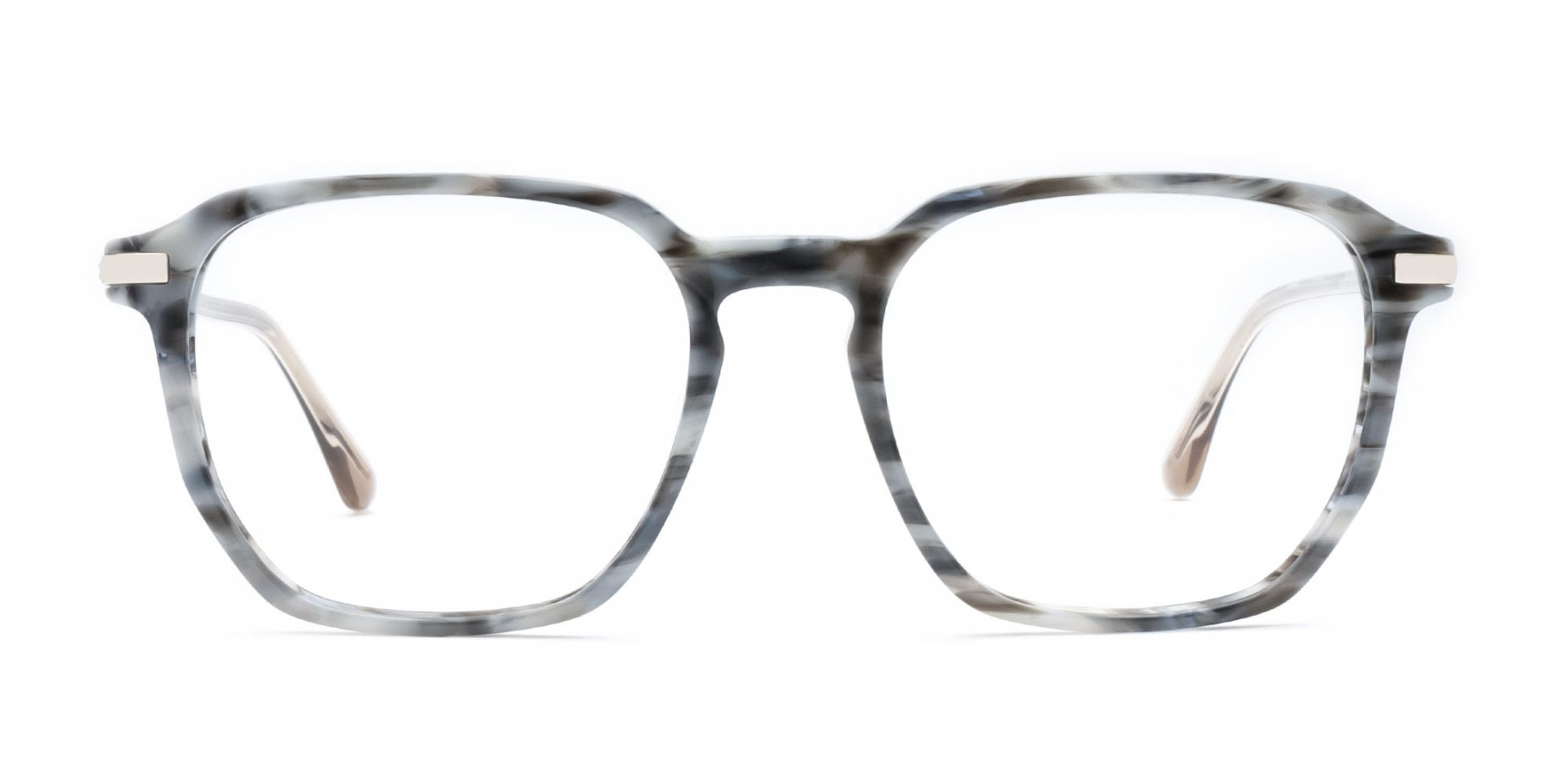 Check this frame FULHAM 4.
7. Royal Blue with Marble elegance - Quiet and Confident
Cat-eye glasses are constantly available for experimentation, and Dewsbury is a living example. This experiment, which combines amiable blue and sober silver, is a bold one. The frames also have slight upswept tips and are squarish in shape. What we get is a funky pair of cat-eye spectacles with a positive energy. All of your informal parties will be a tremendous hit thanks to these glasses. With the latest blend of colours and frame design, these glasses are a hot trend across the globe for the beautiful cat-eye acetate design and allowing comfort and chicness with an energetic tone.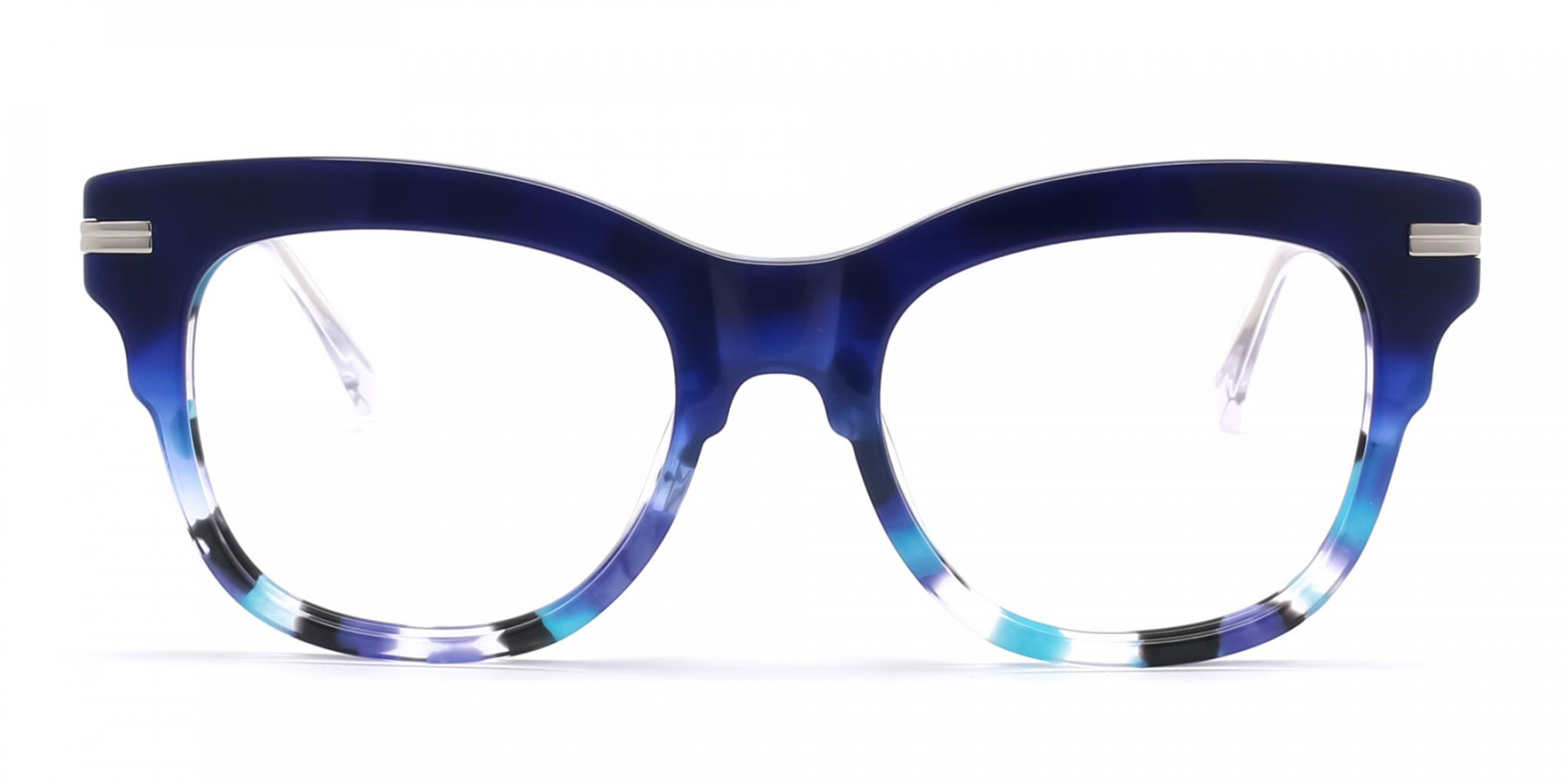 Check this frame DEWSBURY 3.
Get these wonderful and spectacular hipster glasses with an extensive range of colour, style and frame offer. If you still can't decide yet then try our free glasses trial at home where you can order up to a maximum of four favourite frames and try and decide to with them for a week. Get your hands on them immediately and revamp your lifestyle.