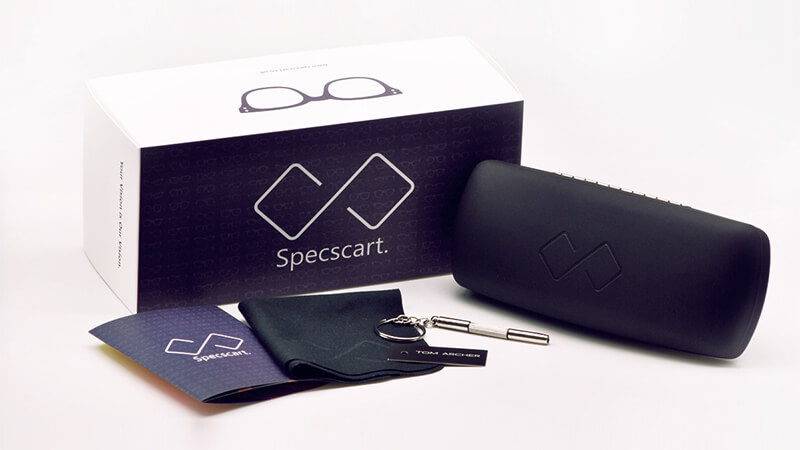 Life with new glasses - what to expect?
You have checked out a variety of frames, found your favourite style, compared it with others, and finally ordered the one you like. But as you wait for the order to arrive (not more than a day in our case!) - is there something to keep in mind? In this blog, I am going to talk about what you can expect with a new pair of glasses, especially if you are buying spectacles online for the very first time. First, let us see what all exciting things you can look forward to when getting new glasses from Specscart.
The Specscart Package
Now whether you purchase prescription or fashion glasses, there are few things common with all our frames. If you have a purchased a pair from us, you would already know that all glasses come with these free protective coatings -
Anti-glare/anti-reflective
Anti-UV
Anti-Scratch
Apart from these fully loaded glasses, you will get all these complimentary items in the package -
1. A designer microfiber cloth - No more using t-shirts or towels to clean your glasses! The glasses microfiber cloth included in your box does an excellent job of absorbing dust and debris from the lenses. Once you start using them for your frames, you'll wonder how you ever lived without them!
Not just effectiveness, the cleaning cloth features fun, attractive patterns that will be great for your collection. After all, fashionable frames deserve a fashionable cleaning cloth.
Our festive microfiber cloths are especially popular.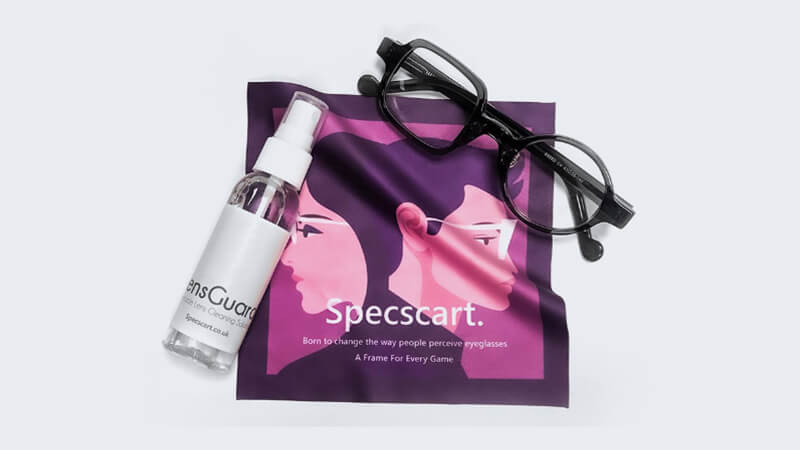 2. Lensguard Solution - Using this special solution to clean lenses will make sure it doesn't leave any streaks. Spray the solution on the lenses on both sides and rub with the microfiber cloth - and your glasses will remain in a top-notch condition.
3. A mini-screwdriver - After constant use, glasses sometimes get loose with time. You may have encountered this problem with the frames sliding down your nose or not fitting properly. With this handy tool, it is easy to adjust glasses at home yourself. So no need to run off to an optician for repairs. We have written about these tips here, along with a helpful video.
Adjusting to New Glasses
Now wherever you purchase glasses from, it takes some time to adjust to new glasses, especially prescription ones. For a few days you might experience eye strain and headaches. This usually resolves when your eye muscles get used to relaxing and not focusing for better vision. It may take some time to get used to them physically as well, if your nose and ears are not used to wearing frames. (although our ears have been getting enough workout with the constant mask-wearing)
These are the common issues faced -
Sore Eyes
Headache
Dizziness
1. Pro-tip - Don't stop wearing your glasses because of this. It is only a matter of time and habit. In fact the more you wear them, the faster you will adjust to new glasses. Varifocals or progressives take a longer time to adjust to. It sometimes takes even a month for them to fit in perfectly.
2. Returns Feature - Before you buy glasses, make sure the company provides a free returns feature. You may not like the glasses because of any reason - the colour shape, fit, etc. Specscart has a 30 days no-question-asked Returns Policy wherein you can return the frames without any hassle.
3. Losing them time and again - The hardest thing in the world? Trying to find your prescription glasses.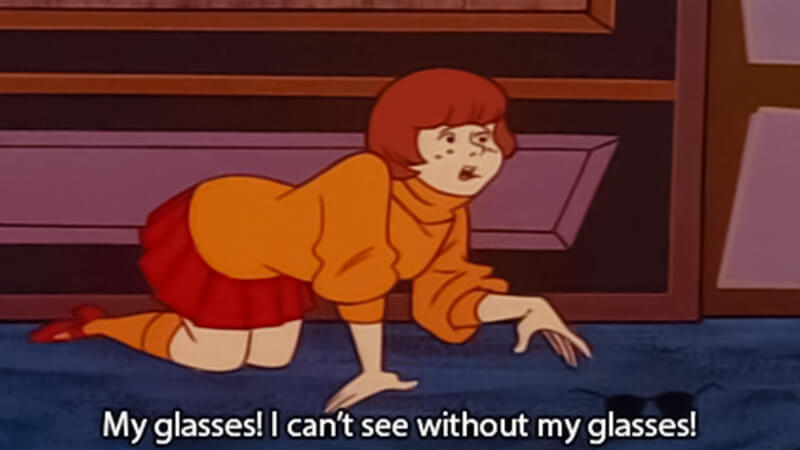 If you live alone and have a strong prescription this is going to be especially challenging. So make sure you hold on to them for dear life!
Frequently Asked Questions About New Glasses
1. How to clean a microfiber cloth?
You can use your microfiber cloth for a long time by cleaning it regularly. Simply use a few drops of mild liquid soap and let the cloth soak in it. After that just rinse it off with cold water. Make sure it does not have fabric softener.
You can also wash the cloth in a machine with a bleach free detergent.
2. Does it take time to adjust to blue lens glasses as well?
It doesn't take time to adjust to blue light glasses. In fact if you use digital screens a lot, your eyes will start feeling more relaxed once you start wearing blue light glasses.
3. How do I store my new glasses?
The best idea is to place them in the case provided in the package. But if you don't have that at hand, always place them on a flat surface like a table with the arms folded.
4. Will wearing glasses increase my prescription?
No, wearing glasses will not increase your vision. In fact they will help you feel more comfortable as you get used to them.
5. I have astigmatism. How should I adjust to a new prescription?
When the astigmatism element of our lenses change, it can take slightly longer to adjust. It also depends on the degree of change. It is common for people to take even upto 10-15 days, especially if they are new to glasses. They might feel they have distorted vision or that their eyes are "swimmy" when they turn their head. It is still advisable to keep wearing them and not going back to old glasses. Try wearing them indoors first and not moving around a lot till you get used to them a little.
Our Latest Stories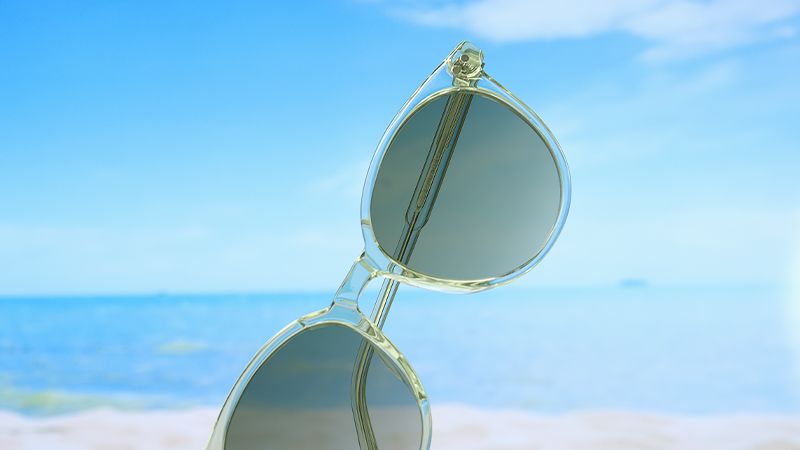 H
Halina Tseng
Published on May 26, 2022, 8:10 am
Make Waves with our Beach Sunglasses!
Beaches and sunglasses go hand-in-hand: they help you see better and block glare, while making you look cool! Should you go for polarised sunglasses? Read on!
Learn More
24Hr Dispatch Via Specscart Rocket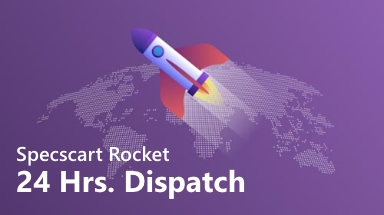 Surprisingly fast delivery for every last minute occasion. Glasses at your doorstep With a hell-for-leather chase!
Buy Now
Read More
---
Hello,
fellow reader!
An exciting offer is on the way to your inbox!
You like to read stuff, and we love that about you.
Enter your email-ID below and we will send you an exclusive offer!