We don't need an occasion to express our love for the most wonderful person on the face of the planet - YOU!
So to show you some love back, we have decided to run giveaways and distribute free glasses every month on our social channels. Those who follow us on Instagram already know that we like to hold these contests to keep things exciting for you guys. But we didn't want our readers to miss out on the prize so here we are spreading the word to you.
Score Big! Win Free Glasses
Who doesn't like things for free? Not you we bet. Enter the contest and get a shot at winning designer glasses. The free glasses giveaway is live right now on our Instagram so make sure you check that out.
If you haven't noticed, we have the trendiest eyewear styles that you can get for free if you act quick. The more time you spend thinking, the less likely you'll make it to the winners' list.
So if you think that you'll look great in specs, don't miss your chance. Try out your luck and who knows maybe you'll be getting a free frame in a few days.
Here's your ticket to free glasses
No quizzes or photo contests we promise. We like to keep things simple for our customers. Just follow us on Instagram, tag your friends and your work is done. If you get lucky (which we hope you will), expect your free prescription glasses to reach your home within a few days.
The winners will be informed via email so make sure our emails are not ending up in your spam.
We keep our social media family entertained with engaging posts be they about our brand story, funny memes or our exclusive collection. So you have that to look forward to in your social feed.
Sneak peek at previous giveaways
We like to treat our customers with free glasses from time to time. Here's a little souvenir from our last giveaway.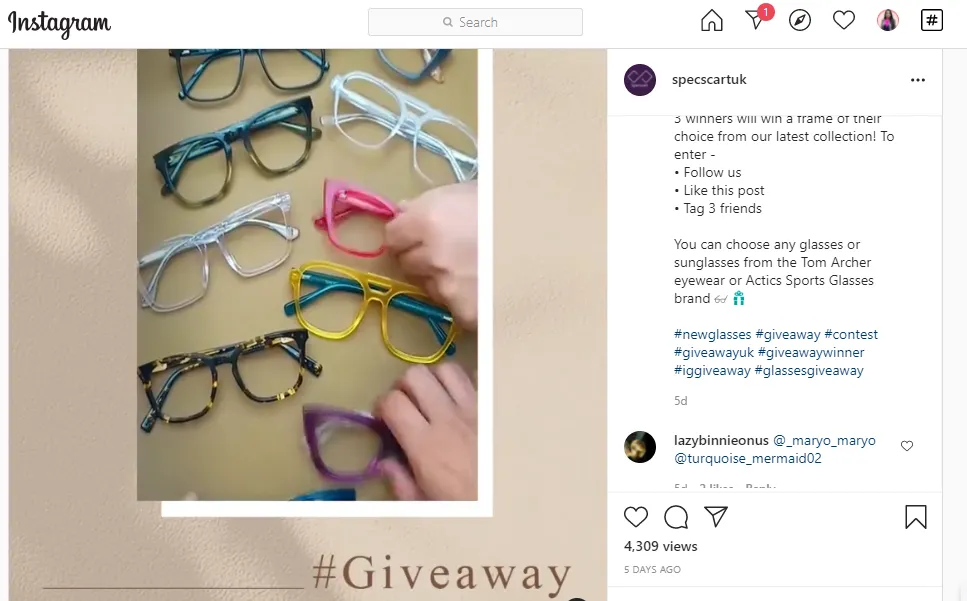 This could be you if you hurry up and follow us on Instagram. We would love to see our frame on your smiling face.
Why are we doing this?
No matter how much we try to describe our love in words, we can"t do it. And when words aren't enough, actions speak so much more. So here we are with our small token of appreciation.
This pandemic has been crazy for so many businesses. And for a small business like us, we didn't expect to thrive the way we did during these difficult times. But we came through it stronger - all because of you people.
Being an University-born startup and having a small eyewear business in the UK has been a roller coaster ride for us. We didn't think we would grow this big but you believed in us and made our dream into reality.
You've helped us come this far and we'll love it if you help us take a few more steps ahead. Shower us with some love on social media if you like what we are doing. No pressure on anyone.
What's up for grabs?
For starters, hundreds of designer frames including prescription glasses, fake fashion frames or gaming glasses for free. Even if you don't have an eye prescription, the top-notch frame styles will give you a reason to wear glasses just to look good.
Choose from our wide selection of frames and add a punch of style to your everyday look. Our glasses are loaded with protective filters to guard your vision.
We would love to hear back from you. Leave a comment on your social media post to tell us how excited you are about this giveaway. Best of luck to all the participants.