The Blog
A Frame For Every Game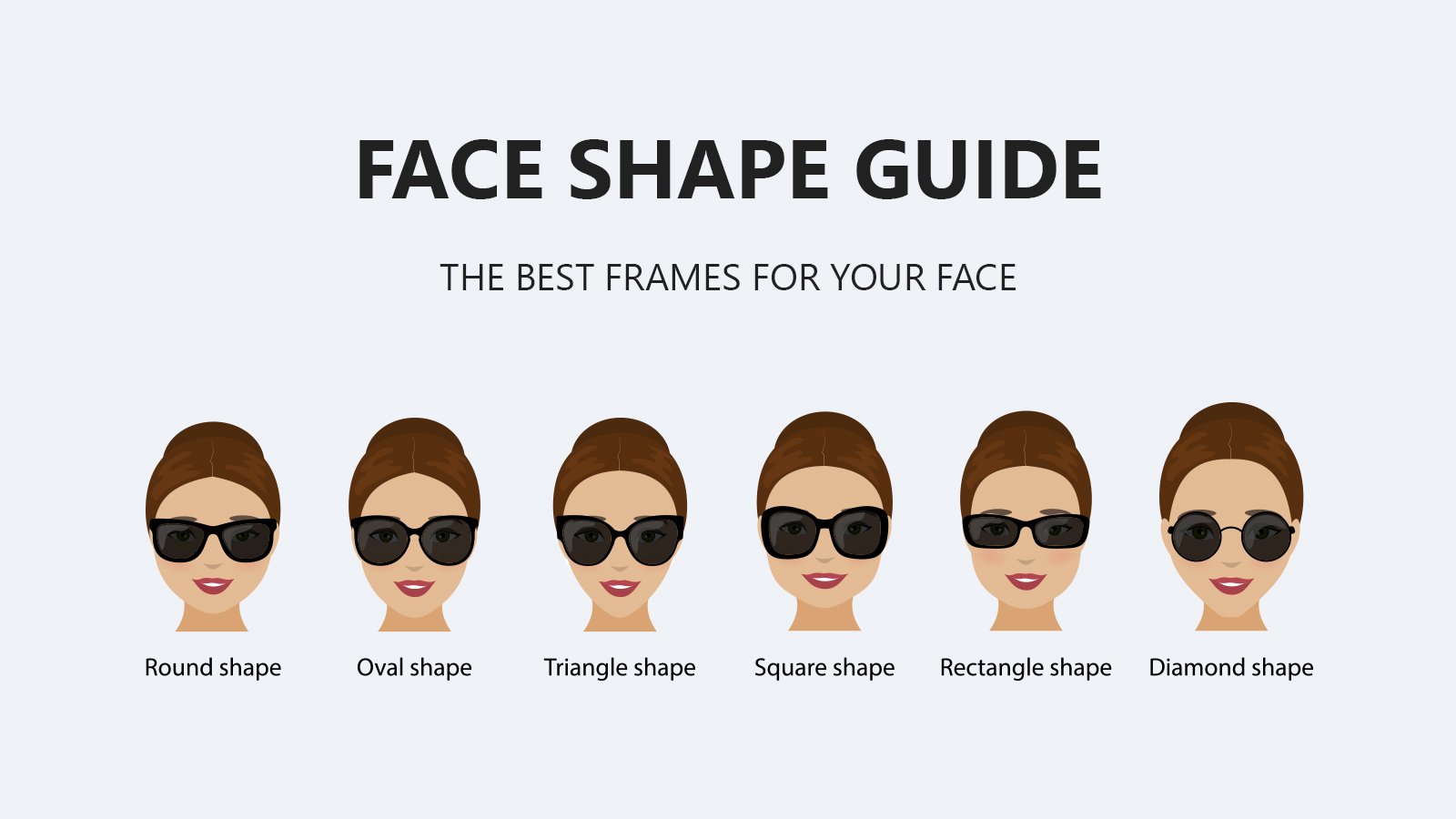 50% of people wear wrong sunglasses for face shape.
By Sid S. Published on August 9, 2019, 8:20 am
Sunglasses are an eminent fashion apparatus which not only provide shade from bright sunlight to our eyes but also consist of several protective characteristics. Apart from shielding your face in the scorching heat of summer, sunglasses give that much wanting comfort and coolness to the eyes.
While investing in a pair of your favourite sunglasses considers a few things i.e. sunglasses for face shape, protection and prevention factor. Sunglasses must block 100% of harmful ultraviolet (UVA and UVB) rays present in the sunlight so that the retina of the eye remains unaffected along with backing anti-glare properties to protect eyes from blinding glares and shine. The other major factor is that sunglasses should complement your face, looks and style.
How to determine sunglasses for face shape?
No doubt, people wear sunglasses on various occasions to enhance their style statement. But do you know exactly that the sunglasses should not only match your outfit or season but should also match with the shape of your face? In fact, every face shape has well defined distinguishing features that must be given a due thought well in advance before buying any sunglasses for men and sunglasses for women of any particular shape and size. Square face shape cannot sport rectangular sunglasses well, similarly, round face shape does not look appealing with funky round sunglasses and not every face shape can rock cat eyes sunglasses either. Thus, the question before us is how to determine what kind of sunglasses suits your face shape. Let's study each unique face shape and the respective sunglasses that flatter them:-
Sunglasses for oval face shape
If the shape of your face is little elongated horizontally from forehead to chin and wider cheekbones increase the depth of the face, you have got oval face shape. People with oval face shape consists of narrowing jawline and fuller round cheeks, along with a wider forehead. The best part of oval face shaped people is that you are blessed with a kind of face shape that lets you experiment with any type and style of sunglasses.
Round, geometrical shaped, bold or edgy, all styles of sunglasses work well on oval face shape including oversized sunglasses, eccentric and iconic circle round sunglasses, bold rectangular sunglasses, unique browline sunglasses, tinted aviator sunglasses etc. in various colours and lenses shapes.
Click here for this frame.
To avoid exaggerating the length of the face, people with oval face shape should avoid small and thin sunglasses such as narrow square sunglasses and small cat eyes sunglasses.
Click
here
for this frame.
Sunglasses for round face shape
The most common face type among women is a round shape. Round shape has a similar proportion of width and length including the full round circles of cheeks. There are absolutely no angles and softness prevails in the face. Soft yet gentle jawline and wide hairline dominate the round face shape.
To give little angles and sharpness to the round face structure, it is good to go with little angular shaped sunglasses which will hide away the softness of the face and bring out boldness. Highly recommended sunglasses for round face shape includes broad rectangular sunglasses, D-shaped glasses with angular edges, pointed cat-eye sunglasses and squared wayfarer sunglasses. Follow some colours and prints, such as tortoiseshell, dual-tone, pink, purple, red, green, blue, gold etc. to bring out the strong appeal and let every eyeball stare your sunnies.
Click
here
for this frame.
As a matter of fact, stay away from round sunglasses or sunglasses with soft round curves.
Sunglasses for square face shape
People with square face shape display wide forehead, wider yet well-defined jawline and cheekbones. Most of the edges of the face are angular or sharp; however, the face size is not much narrow. The width and length of the face appear equal with a flat or square chin.
To soften the sharpness of the face, try out thin and circular shaped sunglasses online such as oval sunglasses, round sunglasses, browline sunglasses, aviators and cat eyes sunglasses with rounded corners. Patterns and prints on the frames will bring the lively vibes including tortoiseshell, dual-tone frames, half rim glasses, rimless glasses, metallic gold and bold colour frame. Do not wear oversized, square or rectangular sunglasses.
Click
here
for this frame.
Sunglasses for Diamond Face Shape
A diamond shape of the face consists of narrow pointed chin, narrow hairline, sharp and wider cheekbones. All the dimensions of the face are pointed and angular.
As the diamond face shape lacks softness and roundness, it is better to buy designer sunglasses online with heavy rounded corners with the upper part of the lenses being heavier. Browline sunglasses, round sunglasses, cat eyes sunglasses, tortoise sunglasses half-rim sunglasses and rimless sunglasses can bring the much-wanted softness to the face. A dash of colours and testing with various frame's material will draw attention to the forehead while concealing the sharpness of face and making you a trendsetter.
Click
here
for this frame.
Sunglasses for Oblong Face Shape
The oblong shape of the face is marked with a broader forehead, round chin, chiselled and defined jawline with narrow cheeks. The length of the face is more than the width of the face.
Sunglasses which have the broad upper part of the frame and narrow bottom part of the frame are good to go with oval face in oversized shapes such as rectangular sunglasses, wayfarer sunglasses, browline sunglasses, aviator sunglasses in half rim or full-rim style. Bring out more width to the face with these sunglasses online in your favourite colours.
Click
here
for this frame.
Sunglasses for Heart Face Shape
A heart-shaped face has a broader forehead, wide cheekbones, sharp jaw, which narrows down towards the thin, pointed chin.
People with heart shape should select wrap sunglasses, heavy bottom sunglasses and round sunglasses including teardrop-shaped sunglasses, wayfarer sunglasses, cat-eye sunglasses and round sunglasses. These sunglasses manage to bring attention on the cheeks and forehead instead of the pointed chin.
Click
here
for this frame.
WHERE TO BUY
BEST SUNGLASSES ONLINE IN UK
?
Specscart is the right place to look out from best sunglasses in every shape, style, colour, design and brand. Sunglasses from Tom Archer showcase a blend of smooth, elegant and vintage collection. Not one buy many sunglasses matches every face shape. The class, quality and detailing of Tom Archer's sunglasses speaks on its own being one of the most demanded brands in the UK. Tom Archer's affordably priced sunglasses in various materials – metal, gunmetal, stainless steel, acetate, titanium etc. are fascinating enough to let you owe the. The charm and chic, these sunglasses can complement any simple outfit and transform your looks from simple to stunning. Buy polarised, prescription sunglasses or non-prescription sunglasses, from Specscart with next day glasses delivery and free shipping.
ABOUT
Specscart : A pair of great frames shouldn't leave your wallets bare. Born in the Manchester University, Specscart aims to show that glasses are not just sight correction instruments - but fashion accessories. From manufacturing their own glasses to a game changing website interface which allows users to choose & customize highest quality eyewear, the independent student startup is changing the way glasses are sold & perceived.